Home Secretary in Pakistan
Theresa May arrived in Lahore yesterday for her first visit to Pakistan as Home Secretary.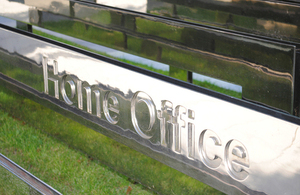 She met with the Governor of Punjab, Mr Salman Taseer and the Chief Minister of Punjab Shahbaz Sharif and was given a cultural tour of Lahore Fort and Badshahi Mosque.
Mrs May said she had a clear message for political leaders and those from all walks of Pakistani society: 'the UK and Pakistan are historic friends and the closest of partners'.
She continued: 'Whilst we must confront the challenges that affect both our countries and wider regions, we can draw strength that our shared history and living family connections mean that we will face them together.'
Women's issues
Meanwhile, in Islamabad, Mrs Yasmeen Rehman - the Prime Minister's Adviser on Women's Development - gave the Home Secretary a tour of the Benazir Bhutto Centre for Women.
As UK Minister for Women and Equalities, Mrs May said she was encouraged by the work she saw to promote the valuable contribution women make to Pakistani society. 
But she said there are still challenges. 'Women have been affected severely by the recent upsurge in extremism, and have also been hit hard by the recent flooding, with many becoming victims of abuse and people trafficking.'
Landmark legislation
She said she supports landmark legislation to criminalise domestic violence that is currently being debated in the Pakistan National Assembly. 'If passed this would send a strong political message that such abuse is unacceptable,' she said.
She added that the UK government works tirelessly to uphold the rights of all women in the UK and will not ban wearing of the naqib or the burqha.
'A ban on what citizens can wear in the street would be an attack on the rights of freedom of speech and freedom of worship as we define them in the UK.'
Published 25 October 2010