News story
Home Secretary confirms independent Panel Inquiry as statutory
Theresa May announces Justice Goddard's appointment as Chairman of independent Inquiry into Child Sexual Abuse and the Panel to the Inquiry.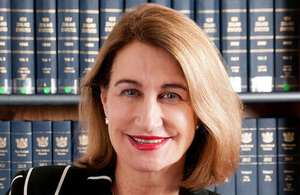 Today the Home Secretary laid a Written Ministerial Statement in Parliament to confirm the Inquiry will be set up with statutory powers to compel witnesses to determine whether State and non-State institutions have taken seriously their duty of care to protect children from sexual abuse within England and Wales.
In consultation with Justice Goddard, the Home Secretary has also appointed four Panel members, who have the range of skills and expertise required to take forward and lead the important work of the Panel in supporting the Chairman.
The Panel will consist of Drusilla Sharpling, Professor Alexis Jay, Ivor Frank and Malcolm Evans. Together, these individuals will represent a wide range of experience and expertise.
In addition, the Panel will be informed by a number of expert advisers in the fields of health, education, and a psychologist with expertise in this sensitive area.
Justice Goddard will be writing to survivors and their representatives shortly to set out her intention to create a Survivors and Victims' Consultative Panel and to seek their views on how this will work and who should be on it.
This Panel will have a specific role and function within the Inquiry - ensuring survivors have a strong voice in the work of the Inquiry as it moves forward.
The Home Secretary has also consulted Justice Goddard and agreed with her the final Terms of Reference. The two most important changes are the removal of any cut-off date for the work of the Inquiry and, reflecting the importance of survivors to the Inquiry, the explicit statement that survivors will be able to bear witness to the Inquiry and that support will be made available.
Published 12 March 2015