Home Secretary celebrates London Pride
Theresa May joined service men and women to celebrate London Pride 2012.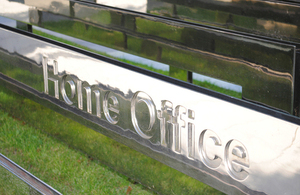 The Home Secretary and Minister for Women and Equalities took part after London was chosen as the 2012 host of World Pride.
She said: 'Pride is a great celebration of our vibrant LGB&T community and I'm delighted to lend my support again this year.
'Britain is the best place in Europe for LGB&T rights, making the capital an inspiring and exciting host for this year's World Pride.
'I believe no one should be discriminated against because of their sexual orientation, and events like Pride give us a chance to come together to celebrate the real progress being made in Britain and across the globe.'
Theresa May met representatives from the Army, Navy and RAF before they joined the procession through London.
They were among thousands who took part to raise awareness of LGB&T issues and to highlight the importance of equality around the world.
Published 9 July 2012