News story
Home Secretary celebrates 100 years of women police officers
Home Secretary Theresa May today joined women police officers to celebrate the tremendous contribution made by women in policing.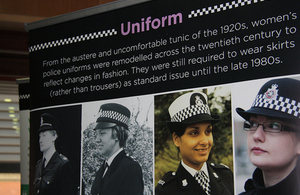 A conference for women police officers of all ranks and from across the country, heard first hand accounts from women who have had a long career in policing, and those who are just starting out, keen to share perspectives and experiences.
The event marked the centenary of Britain's first ever female police constable with official powers of arrest. There has been significant progress since then from standard issue handbags and impractical uniforms to a workforce where women are represented in all ranks and where there is a higher proportion of women officers than ever before. The latest figures show that as of March this year there were 35,738 female officers, representing 28.2% of all police officers (compared with 25.7% in 2010, and 16.5% in 2000).
However challenges remain and some of the improvements to women's equality in policing are surprisingly recent. It was only in the 1980s, female officers were issued with uniform and kit which included a handbag complete with a smaller truncheon to fit inside it and it wasn't until 1995 that we had our first female chief constable – Pauline Clare.
Home Secretary Theresa May said:
This event marks one hundred years since Edith Smith – Britain's first ever female police constable with official powers of arrest – began patrolling the wartime streets of Grantham.

Back then, policing really was a man's world. And I am sorry to say that my own department was among the first to challenge the recruitment of female police officers. Shortly after Edith Smith's appointment, the Home Office declared that women could not be sworn in as police officers because – and I quote – they were not deemed "proper persons". Well… it just makes you wonder what those Home Office officials would say now to having a female Home Secretary!

While we have come a long way, we must go further if we are to ensure greater diversity, and truly modern police forces.

And we must do so not only because of the talents and skills both men and women from a range of backgrounds can bring to policing. Nor simply to ensure police forces properly reflect the communities they serve.

But because if we are to meet the challenges policing faces in the future, then we need a diverse range of police officers adept at tackling not only traditional crimes, but many of the other crime types we are seeing.
Increasing diversity in police forces is not an optional extra. It goes right to the heart of this country's historic principle of policing by consent. Important work is already underway to improve and support diversity in our police forces as part of police reform agenda. Schemes such as Direct Entry and Police Now are opening up policing to people from different backgrounds, bringing in graduates with fresh perspectives, new skills and of greater diversity.
This year of those starting the direct entry superintendent scheme, half are women and a sixth are from an ethnic minority background and for external candidates starting their fast track to inspector training this year, 46% are women and 23% are from an ethnic minority background. This compares to the current inspector rank of which 19% of officers are women and 4% from an ethnic minority background. Police Now received over two thousands applications this year with just under half from women, and just under a fifth from people from Black or Ethnic Minority backgrounds.
Published 2 December 2015