News story
Home Secretary announces appointment of new HM Inspector of Constabulary
Former Royal Navy Rear-Admiral Matthew Parr takes up post today (1 August 2016).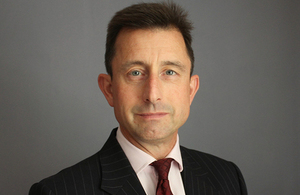 Mr Parr, who most recently worked in the Royal Navy as a Rear-Admiral, was selected following a rigorous recruitment process which included approval by the Prime Minister and Her Majesty the Queen.
He will oversee police forces in the London region, non-Home Office forces and the National Crime Agency, and will also have responsibility for inspecting counter terrorism policing and organised crime policing.
Home Secretary Amber Rudd said:
I am delighted to confirm Matthew Parr as Her Majesty's Inspector of Constabulary.

Matthew brings a wealth of expertise and experience from his career in the Royal Navy that will be invaluable in his new role and I look forward to working with him in the future.
Mr Parr has enjoyed a varied and distinguished career in the Royal Navy, with wide experience in a range of executive and command roles. This includes time spent as Assistant Chief of Naval Staff, and as a commanding officer.
He said:
I am delighted to have been appointed to this prestigious post. Policing is a crucial and demanding public service and I look forward to using the experience I have gained in a rewarding career in the Navy to help promote further reform and improvement.
The recruitment process followed the Office of the Commissioner for Public Appointments (OCPA) Code of Practice for public appointments. The selection panel was chaired by an OCPA public appointments assessor and comprised a senior civil servant, HM Chief Inspector of Constabulary, and an independent member.
Published 1 August 2016