Home Secretary agrees march ban
English Defence League members were to march in Tower Hamlets on September 3, with rival demonstrations expected from opposition groups.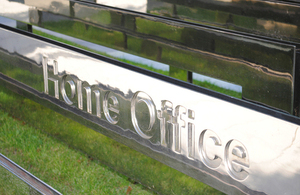 But the Metropolitan Police Service applied for permission to stop the protests amid public order fears.
After receiving the official application late on Thursday, Home Secretary Theresa May today agreed to a ban across five London boroughs.
She said: 'Having carefully considered the legal tests in the Public Order Act and balanced rights to protest against the need to ensure local communities and property are protected, I have given my consent to a ban on all marches in Tower Hamlets and four neighbouring boroughs for a 30-day period.
'I know that the Metropolitan Police are committed to using their powers to ensure communities and properties are protected. We encourage all local people and community leaders to work with the police to ensure community relations are not undermined by public disorder.'
The Home Secretary also wrote to local political representatives to inform them of her decision after several had expressed concerns about possible public order implications if the march went ahead.
The ban imposed will cover all protest marches by any group, but will not prevent static demonstrations.
Further background on public order law: The Public Order Act 1986
Static Demonstrations (also known as assemblies)
The law is clear that neither the police nor the Government have any powers to ban a static demonstration (assembly) unless it is on private property
To ban an assembly on private property, called a trepassory assembly, the police must reasonably believe that it may result in serious disruption to the life of the community. An Order banning a trespassory assembly is made by the local Council on police advice with the consent of the Home Secretary
Static demonstrations do not by law have to be notified in advance

serious public disorder, or
serious disruption to the life of the community, or
serious damage of property, or
the purpose of the organisers is to intimidate others

The conditions or restriction that can be placed on an assembly are limited to its size, duration or location
Marches or processions
There are different laws for marches or processions. There are very limited powers to ban a march/procession
A march/procession can only be banned where the police consider that it would result in serious public disorder and that placing restrictions or conditions on such a march - for example its duration, location and size - would not be enough to prevent the disorder
The local authority need to support the police assessment that a ban is needed and then make a banning Order which in turn requires the consent of the Home Secretary
In the case of the Metropolitan Police District the Commissioner applies directly to the Home Secretary
Marches are banned very infrequently. There have been three bans relating to planned English Defence League demonstrations in the last twelve months in Bradford, Leicester and Telford. The ban on the Tower Hamlets march is the first in the Metropolitan Police area since the Public Order Act 1986 came into force
The police will act where laws are broken and have a range of powers to deal with any criminal activity that takes place at a demonstration
Published 26 August 2011