News story
Home Office rewards police innovation with £50 million
All forces in England and Wales benefit from Police Innovation Fund.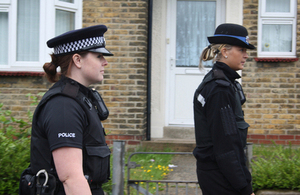 Every police force in England and Wales will receive a share of a £50 million Home Office fund for projects aimed at transforming policing through innovation and collaboration.
The successful schemes include investment in body-worn camera, groundbreaking forensics techniques and joint working between the police and fire service.
Forces were awarded money for new approaches to tackle anti-social behaviour and rural crime; a project to help young runaways; and work to improve the way the police interact with people with mental health problems.
New ideas
Policing Minister Mike Penning said:
I am delighted that every police force in the country showed such a positive, forward-thinking attitude and came to us with new ideas and ways of working.

It meant we could allocate £50 million to some really innovative projects and I am already looking forward to visiting forces and seeing the results.

Crime has fallen by more than 10 per cent under this government. I believe we can help the police do their job even better by encouraging them to embrace new technology and build on ideas coming from the grass roots.
The Police Innovation Fund is in its first full year of operation and up to £50 million will be allocated every 12 months.
Earlier this year, the Home Office made a precursor fund of £20 million available to Police and Crime Commissioners.
Each of the 43 police forces in England and Wales will benefit from the Fund this year.
Innovative
Among the most innovative of the 85 proposals to receive funding this time were:
A joint bid of £431,000 by Nottinghamshire and Lancashire Police to reduce the processing time for a DNA profile from four or five days to two hours.
Eight forces – Bedfordshire, Nottinghamshire, the Met, Hampshire, Durham, City of London, Merseyside and North Wales – will share more than £4 million to spend on body worn camera technology.
The Metropolitan Police successfully bid for £113,000 to help develop a new spray which will be able to quickly identify body fluids at crime scenes.
Published 29 July 2014