News story
Home Office rewards police innovation
Every force in England and Wales benefits from the Police Innovation Fund.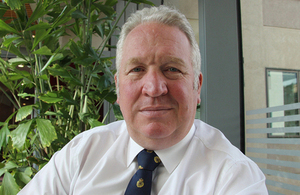 The Home Office today awarded millions of pounds to innovative, collaborative and cost-saving projects aimed at transforming policing.
All 43 forces in England and Wales will benefit from a share of the £70 million Police Innovation Fund.
This year the fund received 166 bids, of which 71 were successful. Several of the projects will be funded over two years, allowing forces to implement schemes which will deliver long-term benefits.
Saving money
Forces estimate projects supported to date by the Police Innovation Fund will have saved taxpayers almost £250m once they have been up and running for five years.
Successful 2015/16 bids include:
£250,000 to Surrey and Sussex Police to pilot the use of unmanned aerial vehicles in a range of policing situations. This will build on the work of a trial project at Gatwick airport, which found the technology offered significant benefits to the police.

£300,000 to the Metropolitan Police to produce the world's first system to instantly compare a suspect's footwear with shoe marks left at crime scenes.

£360,000 to Merseyside Police to use new digital biometric technology and a tried and tested digital record management system to create a paperless bail system in police stations.

£2.6 million to the Met to deliver their Police Now recruitment scheme, which attracts the best and brightest graduates to careers in the police.
Policing Minister Mike Penning said:
This year's successful bids have once again demonstrated how well police forces can work together to come up with forward-thinking, creative and original projects.

Crime has fallen by more than a fifth under this government. By working together, utilising modern technology and embracing new ideas, the police can do their job even better.

This year's schemes will build upon the work we have already funded to further improve efficiency, save forces money and ultimately provide greater value and a better service for the taxpayer.
This year saw an increase in successful collaborative bids by police forces. These include:
£300,000 to the Minerva collaboration between 18 forces, led by Sussex Police, aimed at improving flexibility and choice around police IT.

£896,000 to the 24-force eCommerce for Policing Programme, led by Hampshire Police.

£140,000 to develop a new apprenticeship scheme shared by nine police forces and five other organisations, led by the Met.
More efficient
Three bids have estimated over £45m of efficiency savings within three years of implementation. They are:
A bid by Lancashire Police to transform the way they deliver early interventions to children, families and adults has been awarded £2.2m.

A bid to enhance the strategic partnership between Hampshire Constabulary and Thames Valley Police, as well as strengthen technology links across the south-east of England, has been awarded £1.9m

A bid for technology to build on the existing seven-force Athena collaboration system, which will help the police and criminal justice system to work collectively, prioritise resources and improve problem-solving capabilities, has been awarded £1.5m.
The Police Innovation Fund was launched last year. Every force in England and Wales received a share of £50 million in 2014/15, following the allocation of an initial £20 million from a precursor fund.
Published 26 March 2015