News story
Home Office response to child sexual exploitation inquiry
Policing and Criminal Justice Minister Damian Green reaffirms commitment to providing victims with better protection.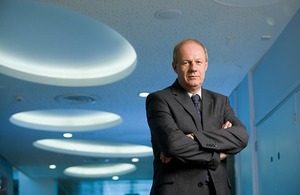 The government today (10 September) responded to an inquiry by the Home Affairs Select Committee (HASC) on child sexual exploitation and localised grooming.
Policing and Criminal Justice Minister Damian Green said:
Child sexual exploitation is an abhorrent crime which this government is determined to stamp out.

We have set up a Home Office-led National Group, through which agencies are working together to better identify those at risk and create a more victim-focused culture within the police, health and children's services.
The Sexual Violence against Children and Vulnerable People National Group is a panel of experts and policy makers brought together by the Home Office to co-ordinate and implement lessons from recent inquiries into historical child sexual abuse and current sexual violence prevention issues.
Victim focus
Damian Green added:
Since the HASC published its inquiry, progress has been made. The police are more engaged, aware and determined to identify victims.

In the past, all too often, these crimes were largely hidden and now child sexual exploitation is rightly centre stage as an issue we must tackle. We will continue to work to ensure victims are not left to suffer in silence and ensure that those who exploit them are brought to justice.
Frontline support
Damian Green also welcomed today the launch of the 'Say Something if You See Something' toolkit, developed by the National Working Group charity and the Children's Society.
It is designed for frontline and operational practitioners working with children and young people who may be at risk or are experiencing child sexual exploitation.
Speaking at the event, he said multi-agency work was key to addressing past failings, and the toolkit would build upon the extensive programme of work underway across government to enhance the response and protection for children and vulnerable people, through the National Group's Action Plan
Published 10 September 2013