News story
Home Office reduces energy consumption
Over the last year, the Home Office has saved £1million by reducing energy consumption by 17 per cent.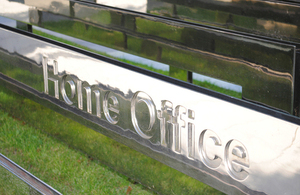 This represents 5,386 tonnes of carbon and is the fifth highest reduction achieved across Government departments.
The Department for Education came top of the Whitehall table, with a 21.5 per cent reduction.
What action did we take?
The department focused on managing its buildings better, including introducing time-schedules for air conditioning and heating and installing sensors so lights go off automatically when staff leave rooms.
PC power management was also installed to PCs which shuts desktops down automatically when not in use.
 
The Home Office also introduced a pioneering 'payment by results' contract with British Gas and facilities management experts Amey which delivered savings of over £200,000 in just eight months. 
Energy tracker
Last year, the Home Office became one of the first government departments to publish its energy use by installing an online energy tracker.
The device updates every 30 minutes with the latest information about how much energy and water is being used in the building, how much it costs, and the amount of C02 that represents.
Published 6 July 2011