News story
Home Office named a top employer for women in 2014
Leading the way by creating an equal workplace for all - the Home Office features in The Times Top 50 Employers for women.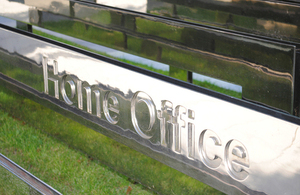 The Home Office made the Top 50 by demonstrating that gender equality is a key part of its business strategy and showing consistent commitment to progressing women across the entire organisation.
Home Secretary Theresa May said:
I am delighted the Home Office is being celebrated as an employer which supports the diversity of its staff and promotes gender equality.

It's a source of pride that in recent years we have been repeatedly recognised as a diverse employer and this government will continue to do all it can to promote equality and fairness in the workplace.
During 2013/14 the Home Office work on diversity was recognised through the following awards:
Times top 50 Employers for Women for 2014
In the Stonewall Index for 2014, the Home Office was voted the top government employer and was ranked joint fifth place overall with the international professional services firm, Ernst & Young
Gold standard in the Opportunity Now and Race for Opportunity benchmarks
Winners of the community engagement category of the 2013 Asian Women of Achievement awards
Winner of the 'Transparency, monitoring and action' award at the 2013 Race for Opportunity awards
Kathryn Nawrockyi, Director of Opportunity Now, said:
Congratulations to Home Office on being included in The Times Top 50 Employers for Women 2014.

The standard of entries was incredibly high once again and they should be hugely proud of their success. They are a great example of strong leadership; of how putting gender equality at the core of a business can create real, sustainable change for women, organisations and society as a whole. I hope other employers will be inspired by their work and use it to accelerate progress for women in their workforce.
The list is published in partnership with Opportunity Now and is part of Business in the Community's Responsible Business Week.
Each entry form is stringently marked against a framework of best practice and assessed anonymously by a team of gender diversity experts within Opportunity Now. The full list of The Times Top 50 Employers for Women 2014 is available via the Opportunity Now website.
Published 10 April 2014