Home Office in Top 50 Employers of Women
The Home Office has been voted one of the Top 50 Employers of Women by The Times newspaper.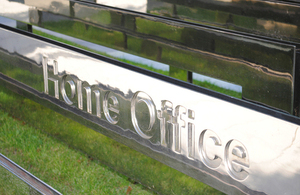 The award recognises the Home Office as a workplace where women can thrive and the department's wider commitment to promoting diversity across the public and private sector.
Accepting the award at last night's Opportunity Now Awards, Home Secretary and Minister for Women and Equalities Theresa May said: 'Women have a valuable role to play in every business and the government wants to remove any barriers to their success. I am delighted the Home Office has been named one of the top 50 employers for women. We are leading by example by helping women achieve their potential to give us a better and more balanced workforce.'
As well as leading the equalities agenda across government, the Home Office has a staff support network that aims to inspire women to achieve their full potential and develop their careers as well as offering a range of flexible working options.
Opportunities
The Home Secretary last night also announced phone company BT as the first winners of a Transparency Award. The award was set up by the Home Office in partnership with Opportunity Now. It recognises companies who are identifying barriers that hold women back and taking action to address them.
This builds on a scheme the Home Office launched last year - Think, Act, Report - which encourages transparency on pay and wider workplace equality. It has already seen sign-up from some of the UK's most successful firms such as Tesco and law firm Eversheds. It is hoped that this new award will drive more businesses to the scheme, and encourage those who are already operating good practices to shine a light on their work.
Theresa May added: 'Tackling barriers that hold women back makes companies stronger and more attractive places to work.
'These awards recognise some of the businesses leading the way on gender equality and I congratulate the winners. The government is encouraging firms to be open about any obstacles that might affect women by adopting our Think, Act, Report initiative.  I want to urge others to seize the opportunity to shine a light on the issues and the action they are taking to address them.'
Published 19 April 2012