News story
Home Office appeals High Court decision on family income threshold
Home Office appeals against recent High Court judgment on minimum income threshold for people sponsoring family members to live in the UK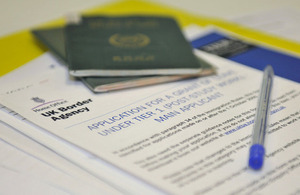 Changes to family migration rules, including the introduction of a minimum income threshold, were brought in last July. They were designed to ensure non-EEA spouses/partners and children of British citizens, or those settled here, coming to live in the UK, would not become reliant on the taxpayer for financial support as well as being able to integrate effectively.
The income threshold was set, following advice from the independent Migration Advisory Committee, at £18,600 for sponsoring a spouse/partner rising to £22,400 for those also sponsoring a child and an additional £2,400 for each further child.
High Court supports the basis of our approach
The High Court judgment supports the basis of the approach and agrees it is appropriate to set a clear, national income threshold to prevent burdens on the taxpayer and promote integration.
However, the High Court concluded that some of the requirements of the income threshold rules may have a disproportionate impact on family life in some cases. The Home Office is appealing this decision.
Immigration Minister Mark Harper said:
We are pleased that the High Court judgment supports the basis of our approach, but we are appealing against its judgment as we believe matters of public policy, like the minimum income threshold, are for the government and Parliament to determine, not the Courts.

We welcome those who wish to make a life in the UK with their family, work hard and make a contribution but family life must not be established here at the taxpayer's expense.
Applications to be put on hold
Pending the outcome of our appeal, where an applicant does not meet the minimum income threshold and there is no other reason to refuse it, the application will be put on hold. We will continue to grant applications that meet the current immigration rules and refuse those that fail on other grounds. More information for applicants can be found here.
Published 26 July 2013