Holocaust Memorial Day: Eric Pickles pays tribute and promotes participation
Communities Secretary Eric Pickles today took part in the national Holocaust Memorial Day event to pay tribute to those affected by genocide…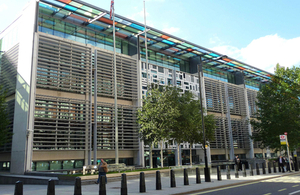 Communities Secretary Eric Pickles today took part in the national Holocaust Memorial Day event to pay tribute to those affected by genocide past and present.
Speaking today (Thursday 27 January 2011) at the event to mark the annual day of remembrance and awareness-raising, the Secretary of State emphasised how important it is that everyone has the chance to learn about the events of the Holocaust and to understand its pertinence to our lives today. Despite the challenging state of public finances, he was also able to confirm that Government support for local memorial activities would continue.
Communities Secretary Eric Pickles said:
Holocaust Memorial Day gives us an opportunity to find out more about what happened in Nazi Germany, Bosnia, Cambodia, Rwanda and Darfur; to look at why it happened; and to think about what we all need to do to make sure it never happens again. This day is relevant to all of us.

Antisemitism and other forms of bigotry have sadly not yet been relegated to the history books. It's the responsibility of every one of us to challenge divisive views and discrimination whenever we see them.

Holocaust Memorial Day is such an important focus for motivating people to do their bit to ensure that the horrendous crimes committed during the Holocaust are remembered and never repeated. This is why we have decided to continue to provide funding to support the crucial work of the Holocaust Memorial Day Trust.

Formal events, such as I attended today, are a chance to stop and remember the horrific genocides of this century. But the many local events taking place this week, in whatever form they take, provide even more important opportunities for the whole community to get involved. They rightly focus on education, young people, thought-provoking stories and active engagement with the modern day issues.
The Government supports the Holocaust Memorial Day Trust to supply resources for teachers and for the organisers of the hundreds of local events that take place in communities.
Carly Whyborn, Chief Executive of the Holocaust Memorial Day Trust, commented:
Hundreds of events are taking place up and down the country today to mark Holocaust Memorial Day. The Day gives us the opportunity to not just learn about history but to learn from history. We hope people will see the day as an opportunity to think about what action they can take that will have a positive impact on their community.

Today's confirmation of funding from the Department for Communities and Local Government is welcomed by the Holocaust Memorial Day Trust and will enable us to continue our important work in supporting Holocaust Memorial Day event organisers and helping create a safer and better future, free from the dangers of discrimination and exclusion.
The Government has shown its commitment to tackling antisemitism and discrimination, with:
£2 million for increasing security for Jewish faith schools, announced by the Department for Education in December last year;
a requirement for police forces to record antisemitic hate crimes separately, with the first set of data released last November. This will improve data and make it easier to target security measures;
and, to ensure continued progress on tackling hate crime, including antisemitism, on the internet, Ministers will host a seminar this spring.
The Holocaust Memorial Day Trust is encouraging people to visit their website and light a virtual candle to show their support. The site includes an array of free resources and information as well as details of events taking place in every region.
Notes to editors
On Holocaust Memorial Day, the victims and survivors of the Holocaust and those from subsequent genocides in Cambodia, Rwanda, Bosnia and the ongoing atrocities in Darfur are remembered. It has taken place in the UK since 2001 and in 2005 the United Nations designated 27 January as International Holocaust Memorial Day. The date was chosen as the anniversary of the day in 1945 on which the largest Nazi concentration camp (Auschwitz-Birkenau) was liberated.
The Holocaust Memorial Day Trust is an independent charitable organisation, set up specifically for the purpose of running Holocaust Memorial Day (www.hmd.org.uk). Their website lists some of the hundreds of local events taking place, which are supported by the Holocaust Memorial Day Trust.
On 13 December 2010, the Government published a report on the progress that's been made and measures that will be taken to tackle antisemitism, four years on from the All-Party Parliamentary Inquiry. This can be found here: www.communities.gov.uk/publications/communities/antisemitismresponse.
Twitter
Keep up to date with the Department by following us on Twitter (external link).
Media enquiries
Visit our newsroom contacts page for media enquiry contact details.
Published 27 January 2011