Press release
Holidaymakers should avoid renewing passport during Olympics
Holidaymakers should plan ahead and avoiding using the London passport office during the 2012 games, the IPS warned today.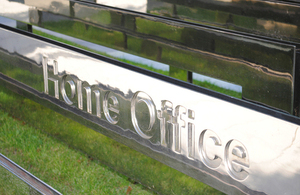 The peak period for passport applications is underway, and IPS is reminding customers to allow plenty of time should they need to renew their passport. The advice is to leave at least three weeks for IPS to process a postal application and longer if you are applying for the first time.
With the games starting on 27 July, customers in the London area who need to use their passports over the summer are being advised to check the date of expiry now.
If you think you do need to use the London passport office for an interview or a counter service, remember that we will be busy and you may have to be flexible about an appointment time. When you go to your appointment leave plenty of time because of pressures on the transport network during the games.
Planning ahead and applying through post office check and send or by post means customers can avoid a last minute dash to the passport office. It could also save as much as £52 on the premium one-day service and mean not having to use busy transport links in and around London either before or during the games.
Anyone wishing to renew their passport can carry over up to nine months remaining on their existing document.
Sarah Rapson, chief executive of the identity and passport service said:
'Don't run the risk of missing out on your summer holiday - check you have a valid passport now. And check before booking your travel.
'If you need a new one, allow plenty of time. We normally advise three weeks for it to arrive.'
The summer is IPS's busiest time, when it processes more than 1.8 million passport applications including more than half a million children's passports, and around 1.2 million adult passports.
There are various options available to apply for your passport to be renewed:
A minimum of two weeks should also be allowed for the post office check and send service and it costs £77.50 + £8.75 for adults and £49.00 + £8.75 for children.
A minimum of three weeks should be allowed when applying by post. This service costs £77.50 for adults and £49.00 for children. Neither check and send or post applications has a guaranteed turnaround time
A fast-track service is available at an extra charge, and takes up to seven days once you have an appointment. This service costs £120.50 for adults and £96.50 for children.
A premium service is also available which allows you to renew your passport in one day, once you have an appointment. This service costs £129.50 for adults and £109.50 for children.
Notes to editors
1. For further information on applying for a passport, go to www.direct.gov.uk/passports
2. To find out the best routes to take for a smooth journey during the games, travellers are advised to go to http://www.getaheadofthegames.com/ The site provides the latest information on busy travel routes and offers alternatives.
3. First time applicants may be required to attend an interview. Premium and fast-track services are not available for first time adult or child passport customers.
4. Turnaround times for passport services are not guaranteed and customers should leave as much time as possible.
5. For media enquiries, please contact home office press office on 020 7035 3535.
Published 3 July 2012