Press release
Hoban: Improvements to Work Capability Assessment making a realdifference
Nearly three in ten people being assessed for Employment and Support Allowance (ESA) are now getting unconditional support, according to figures…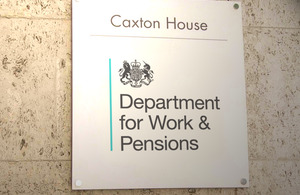 Nearly three in ten people being assessed for Employment and Support Allowance (ESA) are now getting unconditional support, according to figures published today. This compares to just one person in every ten three years ago.
Latest figures show that more than a quarter - 27% - of people were put in the Support Group, where they get unconditional support as they are too ill or disabled to work. This is up from 26% in the previous quarter and more than double the figure from December 2008 to May 2010, when between 10-11% of people were being placed in the Support Group.
Over half of those assessed were found to be fit for some form of work, so will get help from Jobcentre Plus and the Work Programme to find a job which is right for them.
Overall just 15 people in every 100 who are found fit for work have the decision overturned on appeal.
Minister for Employment, Mark Hoban, said:
Getting the Work Capability Assessment right first time is my absolute priority. Those who are fit should work, but those who aren't need real support. Today's figures show that the improvements we have made since 2010 are making a real difference.

Whether it's improving the way people with cancer are assessed, making sure we get people's medical evidence as early as possible, or refining the assessment of people with mental health problems, I am committed to continually improving the system.

Having a fair and accurate assessment is fundamental to ensuring that those who are able to work get the help they need, and those who are too sick or disabled are fully supported.
Outcomes of completed initial assessments of claims started in the period from March to May 2012 shows:
48 per cent of claimants were entitled to ESA. Within this -
21 per cent of claimants were placed in the Work Related Activity Group, and
27 per cent of claimants were placed in the Support Group;
52 per cent of claimants were assessed as Fit For Work
Notes to editors
1) Quarterly statistics 'Employment and Support Allowance: Outcomes of Work Capability Assessments, Great Britain - new claims' is available here: http://research.dwp.gov.uk/asd/workingage/index.php?page=esa_wca
2) Appeals figures: Between October 2008 and November 2011 (where appeals have been heard):
DWP made over 1.25 million decisions on new ESA claims following a WCA. Around 742,000 people were found fit for work
39% of people who were found fit for work appealed the decision
37% of those appeals were successful
Therefore the Tribunal overturned 15% of all fit for work decisions
3) The Work Programme is designed to help people like those who are found fit for work. It offers longer term support over two years for people who are furthest away from the jobs market and who need the most help to eventually move into work.
Media enquiries: 0203 267 5161 Out of hours: 07659 108 883
Published 22 January 2013