Press release
Hoban – committed to further improvements to the Work Capability Assessment
Senior occupational physician Dr Paul Litchfield appointed to carry out the fourth independent review of the Work Capability Assessment.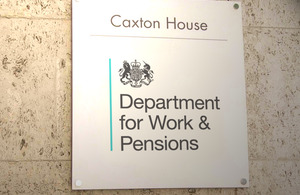 Senior occupational physician Dr Paul Litchfield has been appointed to carry out the fourth independent review of the Work Capability Assessment.
The review will continue the process of ensuring the assessment is as fair and accurate as possible in helping people back to work if they are able, while giving financial support to those who need it.
Dr Paul Litchfield will continue as Chief Medical Officer and Director of Health, Safety and Wellbeing for BT, a post he has held since 2001, while carrying out the review. His fields of expertise include mental illness and the impact it can have on work prospects. As a member of the World Economic Forum's Global Agenda Council, he has also played a key role in raising the profile of the economic impact of chronic disease.
Employment Minister Mark Hoban said:
Dr Litchfield brings with him a huge amount of expertise and experience, so I am very pleased that he will be carrying out this review. He is rightly respected for the work he does at BT in helping people with health problems, and particularly mental health issues.

We have already made considerable improvements to the Work Capability Assessment, so this is a great opportunity to build on the progress made so far.
Dr Paul Litchfield said:
I am pleased and honoured to be asked to continue the important work that Malcolm Harrington has led for the past three years.  Most of my career has been devoted to trying to help people with physical and mental health problems in the context of employment.  Any assessment not only has to be fair but must be perceived as being fair and I hope that I can continue the process of improving the Work Capability Assessment.
An Independent Scrutiny Group, chaired by Professor David Haslam - past President of the Royal College of General Practitioners, National Professional Adviser to the Care Quality Commission, and Chair Designate of NICE - will oversee the review process.
The previous reviewer, Professor Malcolm Harrington, found that as improvements were starting to have an impact, no fundamental reforms were needed to the current Work Capability Assessment, but made a number of recommendations. Over 40 recommendations have already been implemented including:
Better communication with claimants, including phone calls from decision-makers to ensure all medical evidence has been provided;
Introducing 60 mental health champions into assessment centres to provide advice to Atos healthcare professionals;
Simplifying the process for people undergoing treatment for cancer, reducing the need for face-to-face assessments and ensuring more are placed in the Support Group
Notes
Details of the previous three independent reviews by Professor Harrington can be found here: http://www.dwp.gov.uk/policy/welfare-reform/employment-and-support/wca-independent-review/
Biography - Dr Paul Litchfield, OBE OStJ FRCP FFOM.
Paul Litchfield is Chief Medical Officer for BT Group plc and joined the company in 2001 having held senior posts in occupational medicine in both the public and private sectors.  He is a Fellow of the Royal College of Physicians and the Faculty of Occupational Medicine for which he is currently Chair of the Ethics Committee.  In 2007 he was awarded the Order of the British Empire for services to occupational health and he is presently a member of the World Economic Forum's Global Agenda Council on health and wellbeing as well as being a project board member of the Wellness Alliance.
He has been active in the field of occupational health for some 30 years and since joining BT has created a comprehensive support framework for people with long term and fluctuating conditions.  He has interacted with a number of Government departments on workplace health and in 2009 was co-author of the DWP sponsored independent review "Realising ambitions: Better employment support for people with a mental health condition". He was lead author of the European Telecommunications sector guidelines on improving mental health published in 2010 and he is currently engaged with the European Commission on the impact of the economic downturn on workers' health.  Paul has published and lectured widely on workplace wellness, occupational mental health, sickness absence, hazard control, service delivery models and ethics in occupational health.
Media enquiries: 0203 267 5106
Out of hours: 07659 108 883
Published 26 February 2013