HMS York monitors Russian aircraft carrier 'Admiral Kuznetsov'
The Type 42 destroyer sailed north from her home port of Portsmouth last week and first observed the Admiral Kuznetsov north east of the Orkneys…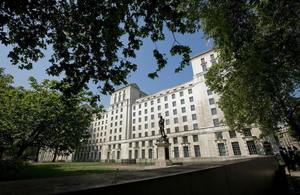 The Type 42 destroyer sailed north from her home port of Portsmouth last week and first observed the Admiral Kuznetsov north east of the Orkneys in the early hours of Monday, 12 December 2011.
She will remain in close company with the Admiral Kuznetsov and her supporting task group, consisting of a destroyer, two frigates, two tankers and an ocean-going tug, whilst they are in the vicinity of the UK.
The Admiral Kuznetsov and her task group are believed to be deploying to the Mediterranean for exercises and training. The aircraft carrier is 999 feet (304m) long and displaces around 55,000 tonnes.
It is the first time she has deployed near the UK for a number of years and HMS York's presence continues to demonstrate the Royal Navy's commitment to maintaining the integrity and security of UK waters.
The Admiral Kuznetsov task group is currently within the international waters of the Moray Firth sheltering from poor weather.
HMS York's Commanding Officer, Commander Rex Cox, said:
Our presence is a clear signal to the Russian task group that the Royal Navy is active and alert around UK waters and we will continue to monitor their activities as they make their way south.

We are well-practised in this type of operation and are ready to position anywhere around the UK and to provide a robust presence when called upon.
Published 15 December 2011