A ceremony at Portsmouth Naval Base has officially marked the end of HMS York's 27-year Royal Navy career.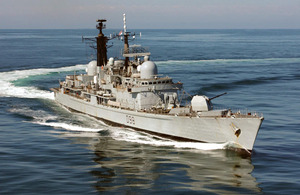 The Type 42 destroyer has clocked up more than 750,000 miles (1.2 million kilometres) protecting the UK's interests across the world and is being decommissioned as the ageing fleet of Type 42s makes way for the hi-tech Type 45 destroyers.
The decommissioning service was conducted by Royal Navy chaplain Reverend Keith Robus, with music provided by the Band of HM Royal Marines Portsmouth.
Among the guests were the ship's sponsor, Lady Gosling, who launched HMS York in 1982, former commanding officers, families of the 240 ship's company and civic dignitaries from the ship's namesake city.
The ceremony ended with the ship's White Ensign being lowered for the last time. HMS York's Commanding Officer, Commander Rex Cox, said:
As the final Commanding Officer of HMS York I have the honour and privilege to ensure that we say goodbye to our great ship in style and in the finest traditions of the Service.
HMS York has given 27 years of distinguished service to the Royal Navy across the globe.
Throughout her life it has been the people, the members of her ship's company, who have made HMS York what she is.
It is time to say farewell to a distinguished lady who has been both a home and a way of life to so many.
We shall miss her. However, rather than being sad, we should look to her numerous achievements and celebrate her 27 years.
The last of the Navy's Type 42s, York was built by Swan Hunter at Wallsend and launched on 20 June 1982.
She was commissioned into the Royal Navy fleet in 1985 and her first deployment was to the Far East in 1986-87.
She was sent on operations to the Gulf four times in the 1990s and saw front line action in 2003 when she provided air cover to aircraft carrier HMS Ark Royal during the invasion of Iraq.
In 2006, HMS York joined sister ship HMS Gloucester in evacuating British nationals from Beirut during the Israel-Lebanon conflict, ferrying evacuees to Cyprus.
And in 2011, during her last operational deployment, she was sent to Malta to assist in the evacuation of British personnel during the Libyan uprising.
HMS York left Portsmouth for the final time at the beginning of the month and headed for Brest in France where she showed off the capabilities of the Royal Navy to French military students.
From there she spent several days in Hull, allowing her ship's company to exercise their Freedom of the City of York for the final time and say farewell to civic dignitaries and affiliated organisations in the city.
She returned to her home port for the final time on 20 September 2012.
Published 28 September 2012