HMS York arrives in Malta with evacuees from Libya
The Royal Navy warship HMS York arrived in Malta today carrying 43 more evacuees from Libya, including 11 British nationals.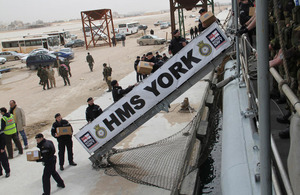 The Type 42 destroyer travelled to Benghazi in Libya to deliver medical supplies donated by the Swedish Government and to evacuate eligible personnel from the troubled North African country. She arrived in Benghazi harbour yesterday, Wednesday 2 March 2011.
The medical supplies, a donation to the Benghazi Medical Centre, had been diverted to Malta after the airport in Benghazi was closed.
In order to move the humanitarian aid to the ship, the Armed Forces of Malta stepped in to help with the transportation at short notice.
This speed of reaction permitted York to sail and reach Benghazi more quickly with the much needed supplies, which included needles, syringes, surgical gloves and bandages.
HMS York's Commanding Officer, Commander Simon Staley, said:
There has been a real international flavour to this mission, with the Maltese Armed Forces transporting the Swedish medical supplies so the UK could deliver them to Libyans in need.
I'm exceptionally proud of both my ship and my people. The ship's company have responded well and we are resilient. We've shown what the Navy is all about and I'm exceptionally proud to be captain of a ship that has done it so well.
HMS York was on her way to a five-month deployment in the Falklands when she got the call to go to Libya.
Published 3 March 2011