HMS Westminster receives US thanks for operations in Libya
The Type 23 frigate was initially deployed to Libya on Operation ELLAMY to take part in humanitarian operations and evacuate refugees, taking…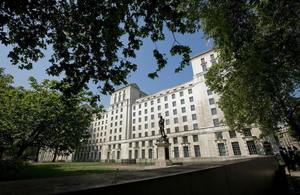 The Type 23 frigate was initially deployed to Libya on Operation ELLAMY to take part in humanitarian operations and evacuate refugees, taking over from HMS York on 4 March 2011.
She then demonstrated the flexibility of naval forces by conducting surveillance and sea embargo operations in support of United Nations Security Council Resolutions.
For this, her Merlin helicopter regularly patrolled the coast and a detachment of Royal Marines was on standby, ready to assist the board and search teams in enforcing any operational tasking.
HMS Westminster also played an important role in deterring Colonel Gaddafi's navy from attempting to launch attacks from the sea on the Libyan people, by providing a threatening presence.
US Joint Operational Command, AFRICOM, the body that commands operations within and around the African continent has since formally presented the frigate with a plaque which recognises the contribution the ship made during her time off the North African coast.
The plaque reads:
To the officers and crew of HMS Westminster. Thank you for your world-class support. Delivering the goods when no one else could, you are truly second to none.
Accepting the plaque on behalf of the ship, Executive Officer, Lieutenant Commander Nick Wood, said:
Libya was a real demonstration of the flexibility of the Royal Navy. At very short notice we sailed from the UK and quickly arrived off the Libyan coast into a dynamic and hostile environment.

We delivered real effect whilst we were there and I am very proud to accept this recognition of our work from our most important allies.
HMS Westminster is currently undergoing a maintenance period in Portsmouth but remains at high readiness for operations.
Published 8 July 2011