HMS Westminster makes huge drugs haul
The Portsmouth-based warship intercepted a suspicious dhow in the Indian Ocean, seizing over 70 bales containing more than 180kg of pure heroin…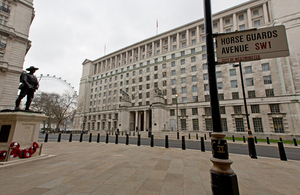 The Portsmouth-based warship intercepted a suspicious dhow in the Indian Ocean, seizing over 70 bales containing more than 180kg of pure heroin.
The discovery of the drugs occurred when HMS Westminster's Merlin helicopter and combined Royal Marines and Royal Navy boarding teams received orders to search for, intercept and board a suspicious vessel.
They did, and found more than 70 bales of pure heroin, weighing more than 180kg (nearly 400lbs), on the dhow; it is estimated that the drugs have a street value of US $22m - almost £14m.
HMS Westminster is operating under the banner of Combined Task Force 150, one of three task forces co-ordinated by the international Combined Maritime Forces, with the aim of defeating terrorism, preventing piracy, stopping the illegal trafficking of people and drugs, and promoting the maritime environment as a safe place for mariners with legitimate business.
Captain Nick Hine, Westminster's Commanding Officer, said:
This has been a successful day for Westminster and for Combined Maritime Forces.
These smugglers have failed in their quest to make money by bringing misery to those addicted to this harmful substance in the cities around the world.
His ship was directed to seek out the suspicious dhow by the Royal Australian Navy's Commodore Jonathan Mead, who is in charge of Combined Task Force 150 (CTF 150).
He hailed Westminster's success as 'a dark day for terrorists', and the second major bust by the force in the past few weeks:
We are talking about a street value of approximately $22m and I am quite proud of the fact that CTF 150 has now effected the disposal of these substances and further legitimised the lawful and stable maritime environment we are here to champion," he added.

This is the second disruption in two months, bringing our tally of narcotics seized and destroyed to a total of 422 kilograms. The subsequent destruction of these drugs reduces the funding lines of known terror groups by $49m.
Defence Secretary Philip Hammond said:
This is a job well done by HMS Westminster and her crew, underlining the good work the Royal Navy carries out across the world every day in protecting our national interests.
Published 17 April 2012