HMS Vigilant sets sail after refuel and upgrade
Royal Navy submarine HMS Vigilant sailed from Plymouth on Tuesday, 27 March, after nearly three-and-a-half years undergoing work to replace her nuclear fuel and to upgrade key areas.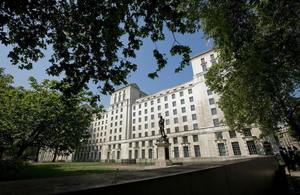 HMS Vigilant was taken in hand by Babcock in 2008 and is the third Vanguard Class submarine to undergo a long overhaul period and refuel at Devonport. She moved out of dry dock in November 2011 to conduct final reactor commissioning and crew training prior to departure for sea trials in April.
Commander Mark Lister, the Commanding Officer of HMS Vigilant, said:
It has been a huge privilege to have worked with the dedicated and highly skilled members of the joint project team that have delivered HMS Vigilant back to the Royal Naval fleet to such a high standard.
The relationship forged between Babcock Marine, the Ministry of Defence's Defence Equipment and Support, Rolls-Royce and the submarine's staff, as well as the suppliers and contractors that have supported them, has prospered during the natural significant pressures present during this technically complex long overhaul period and refuel.
The submarine's crew and I are excited to be taking HMS Vigilant to sea for the first time in three-and-a-half years and we are looking forward to seeing how she performs on her extensive sea trials. As I leave Devonport today, the whole of 'team Vigilant' should be justifiably proud of a job well done.
As one of the Ministry of Defence's most complex projects costing over £300m and consuming 2.5 million man-hours of work, HMS Vigilant has been refuelled using a Rolls-Royce-designed upgrade to her nuclear reactor which will power the submarine to the end of her life.
Additionally, around 80 major design improvements have been incorporated, including significant enhancements to strategic and combat weapon systems and sensors that will ensure the submarine remains highly capable to meet the exacting demands that will be placed on her during her next commission and fulfil her vital role in national defence.
HMS Vigilant witnessed the development of a joint project team and close working relationships between the Defence Equipment and Support organisation, Babcock, Rolls-Royce, submarine staff and a myriad of companies, including many Plymouth area businesses, that have provided specialist technical support.
The joint project team is now focused on finalising the comprehensive sea trials programme that will support delivery of the submarine to the Royal Navy in June this year. This will be followed by intensive sea training by the staff of Flag Officer Sea Training to forge the crew and submarine into a single operational team.
Published 29 March 2012