HMS Vigilant returns to the fleet following refit
Royal Navy submarine HMS Vigilant has recently returned to her home on the Clyde in Scotland following a multi-million pound, three-year overhaul.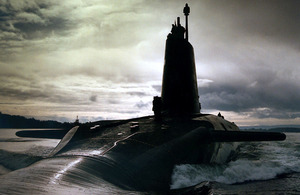 The vessel, one of the UK's four Vanguard Class nuclear submarines, was officially handed back to the Navy for operational use on Thursday 21 June 2012.
Known as a Long Overhaul Period (Refuel), the work package was an enormous engineering task, with the submarine emerging as effectively a new boat inside.
Around 2.2 million man-hours were involved in the overhaul under a £350m contract with Babcock Marine at Devonport Dockyard in Plymouth.
The work that was carried out included the installation of improved strategic weapons equipment and the integration of the tactical weapons command systems.
A new reactor core - which provides the power for the 15,000-tonne vessel - was also fitted, meaning that HMS Vigilant will be able to function until the end of her operational life without ever having to refuel again.
Rear Admiral Simon Lister, Director of Submarines for the MOD, said:
A project of this size and complexity introduces many demanding challenges and the highly sophisticated nature of the work involved in the deep maintenance of these magnificent vessels is testament to the experience and skills of all those involved.
The dedication, determination and synergy of Team Vigilant has ensured that she has been returned to full operation in excellent condition in the shortest of timescales.
Work was started in the autumn of 2008, with refuelling completed in November 2010. Since then the vessel has undergone thorough testing and sea trials.
HMS Vigilant's Commanding Officer, Commander Mark Lister, said:
It has been a huge privilege to have worked with the dedicated and highly skilled members of the joint project team that have delivered HMS Vigilant back to the Royal Navy to such a high standard.
The submarine's crew and I are thrilled to have HMS Vigilant back under our watch and are looking forward to getting on with the job in hand.
HMS Vigilant will now complete final preparations for demonstration and shakedown operations when she will fire a dummy Trident missile at a US test range before returning to her operational deterrent patrol cycle.
All four of the UK's Vanguard Class submarines are based at HM Naval Base Clyde and are known as 'bombers' in the Royal Navy. Each vessel has 16 missile tubes and is armed with Trident II D5 nuclear missiles.
Deceptively large - almost the same length as the flight deck of HMS Illustrious, the submarines operate with a crew of 135 personnel.
Like all Royal Navy submarines, the Vanguard Class are steam-powered, their reactors converting water into steam to drive the engines and generate electricity.
Published 27 June 2012