HMS Turbulent serenaded home by Military Wives Choir
The submarine, with about 130 sailors on board, is the last unit from Operation ELLAMY, the UK's contribution to action in Libya, to return …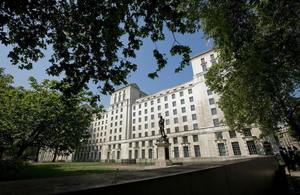 The submarine, with about 130 sailors on board, is the last unit from Operation ELLAMY, the UK's contribution to action in Libya, to return home. She patrolled off the coast of Libya and assisted in enforcing the embargo on Libyan shipping movements.
As a seasonal treat and recognition for the hard work of the long deployment from their wives and partners - members of the choir performed their hit song to the crew on board the submarine while at sea in Plymouth Sound on Wednesday afternoon.
Turbulent tied up in nearby Devonport Naval Base later in the evening.
The visit was kept secret from the sailors, especially one of them, because his wife is one of the now famous choir.
Leading Engineering Technician Tim Forth was, therefore, completely taken aback when his singing wife Victoria and her ten fellow choristers burst into song when he innocently entered the submarine's operations room from the missile hold.
The war-fighting centre of HMS Turbulent became an instant temporary concert hall when the choir gave a rendition of its hit 'Wherever You Are' to the shocked engineer. The reunion became tearful when Victoria burst into tears of joy, followed by the rest of the choir.
Victoria said of the emotional reunion with her husband:
It is brilliant to see Tim again. It's been a long, long year since he's been gone. It is such a relief he is home. We've all missed him so much. But this has been the icing on the cake seeing him on board and surprising him like this with the choir.

It is a bit surreal though. He did look shocked.
Victoria added:
It's been five months since I saw Tim at home. This is not just for me and Tim, it is for all the lads on board. All submariners do covert operations and this means they are largely unrecognised as it always has to be kept under wraps.

So this is one way of showing them that we appreciate their work, as well as showing how happy we are that they are back.
Victoria and Tim are from Plymstock, Plymouth, and have two boys, Christian, 21 months, and William, aged three.
Victoria said:
It's fantastic to have him home for Christmas. He's missed so much of Christian's short life, but did come back for a short visit. Both boys have changed so much.
HMS Turbulent, which featured in the Channel 5 TV series 'Royal Navy Submarine Mission', also spent time in the near and Middle East conducting a variety of operations and exercises in support of national objectives.
Commander Ryan Ramsey, Commanding Officer of HMS Turbulent, said:
It was amazing, but after the camera crew left, the most exciting challenges started.

We conducted operations and exercises with our coalition partners and a range of national operational tasking, demonstrating the true flexibility of submarines and the UK's commitment to the region.
During the time away, 85 per cent of it was spent at sea, with 190 days dived and 50 days on the surface.
The team travelled more than 38,000 miles (61,000km), conducted a variety of challenging submarine missions in the region, and found time to train over 70 new submariners from other units and raise over £7,000 for the charity Children's Hospice South West, including by taking part in a rowing race on an indoor rowing machine on board.
The men on board all agreed on what they had been looking forward to on their return - seeing their families and friends, the British weather (they have seen no rain for a long time!), and to be home for Christmas.
Commander Ramsey summed up the ten months away:
We are only one of many Devonport-based submarines who have done incredible things this year on behalf of the Royal Navy.

I am rightly proud of my team who have always delivered despite every challenge, but more importantly I am thankful to our friends and families, many of whom live in the Plymouth area. We couldn't do what we need to do without their support.

We're glad to be back in Plymouth.
HMS Turbulent also conducted a number of covert patrols and maritime exercises.
Now back in her home port, the submarine will go straight into a busy maintenance period in order for her to remain operational until her planned decommissioning later this year.
The Military Wives Choir, formed of women from Plymouth and Chivenor, have become celebrities since appearing in the BBC2 TV series 'The Choir: Military Wives'. Their single 'Wherever You Are' is tipped to be the Christmas Number One.
Proceeds from the sale of the recording go to the Royal British Legion and SSAFA Forces Help. Six of the singers who sang on HMS Turbulent have partners in the Royal Artillery and one in 29 Commando Regiment; four have partners in 42 Commando Royal Marines.
The women, all first-time or novice singers, performed at the Festival of Remembrance in the Royal Albert Hall, and last week they sang in front of Prime Minister David Cameron during a reception for Armed Forces personnel at Downing Street. They also appeared on BBC TV's 'Strictly Come Dancing' results show on Sunday night.
Published 15 December 2011