HMS Triumph returns from Libya operations
Royal Navy submarine HMS Triumph returned to HM Naval Base Devonport from the Mediterranean on Saturday 2 April after supporting international efforts to protect civilians in Libya over the past two weeks.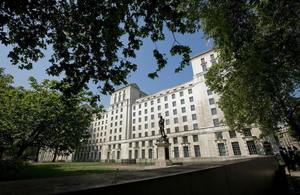 Tomahawk Land Attack Missiles fired by the Trafalgar Class submarine were part of the coalition cruise missile strikes designed to defeat Colonel Gaddafi's air defence system. The targets were carefully selected to avoid civilian casualties and strike a strategic blow at Gaddafi's military installations in Libya as part of the NATO-led operation to enforce UN Security Council Resolution 1973, protecting civilians in Libya.
HMS Triumph was flying the Jolly Roger flag from her fin as she entered her home port of Plymouth - a Royal Navy Submarine Service tradition which celebrates the completion of a successful combat mission where action has taken place, using the stealth and bravado for which the 'Silent Service' is renowned. On this occasion, the submarine had fired and targeted its missiles successfully, as directed by higher command, and returned without having been detected by any air, land or maritime units.
HMS Triumph's Commanding Officer, Commander Rob Dunn, praised his crew for their professionalism:
I am proud of my ship's company," he said. "They went about their duty and carried out all I asked of them in the most professional way.

They are naturally satisfied that they carried out an operational tasking using our Tomahawk Land Attack Missiles weapon system, which does not happen very often, but for which they are highly trained and prepared for at any time," he continued.

This was a short-notice tasking for which HMS Triumph and the ship's company were perfectly ready in terms of the crew's training and the boat being at the peak of combat readiness and at sea. We received our orders and made high speed to our location to carry out our duty as only the unique capabilities of a Royal Navy submarine can enable us to do.
In recent history, HMS Triumph joined her sister submarine HMS Trafalgar in a task group participating in Operation VERITAS - the British contribution to the invasion of Afghanistan in 2001.
HMS Triumph's main contribution during this period was to successfully fire Tomahawk cruise missiles at targets inside Afghanistan.
The current HMS Triumph is the seventh Trafalgar Class submarine and the nineteenth nuclear-powered boat built for the Royal Navy. In February 1991 she was launched by her sponsor Mrs Ann Hamilton, wife of the then Armed Forces Minister Archie Hamilton. Following her commission in October 1991, HMS Triumph completed work-up and deployed around the world.
In 1993 she conducted a 41,000-mile (66,000km) submerged transit to Australia which was, and remains, the longest unsupported solo passage by a nuclear submarine. HMS Triumph has since been refueled and refitted, enabling her to provide at least 15 years' more active service.
Published 4 April 2011