HMS Sutherland relieves Westminster east of Suez
HMS Sutherland has relieved her sister ship HMS Westminster in the Indian Ocean after some final boarding party training in Crete and passage through the Suez Canal.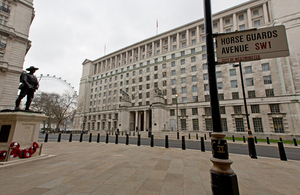 Four weeks after departing her native Plymouth, 'The Fighting Clan', as Sutherland is also known - a nickname honouring her Scottish heritage, has arrived in her operational theatre. She'll spend the rest of 2012 tackling the threat of pirates, smugglers, people-traffickers and terrorists - basically anyone who might try to use the Indian Ocean and the surrounding waters for illegal purposes.
The Type 23 frigate's month-long passage to the Red Sea has been used to update the crew's training, including gunnery exercises off Gibraltar, and final sensor checks and boarding team exercises in Souda Bay, Crete.
The NATO base on the Mediterranean island is home to FORACS (Naval Forces Sensor and Weapon Accuracy Check Sites) which tests the myriad of sensors, communications, radars and sonars on NATO ships to ensure they're in full working order, allowing the ships to pass crucial information to each other accurately.
It is also home to the Maritime Interdiction Operational Training Centre, which features a former Hellenic Navy training ship, the Aris, now used to allow visiting ships' companies to hone their board and search skills.
Sutherland's Royal Navy and Royal Marines boarding team took their training to the next level using 'Simunition' (simulated ammunition), which possesses most of the characteristics of the real thing, without being lethal, carrying out vessel clearance drills and practising approaching pirate vessels.
The Simunition guns - characterised by their distinctive blue colour - might look like toys, but the intensive three-day course that the boarders were put through has ensured they are 'confident that they can deal with whatever lies ahead', says Lieutenant Sam Perrins, Sutherland's lead boarding officer.
Published 8 August 2012