HMS Sutherland crew rescue drowning deer
Sailors from the Royal Navy warship HMS Sutherland have rescued a deer from Plymouth Sound.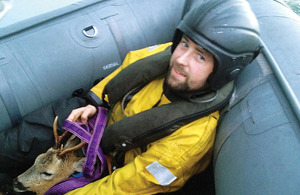 The sailors from Type 23 frigate HMS Sutherland were undergoing realistic training to deal with humanitarian and combat missions when they went into action for real to rescue the deer which had been swept out to sea.
The frigate was anchored in Plymouth Sound during training when Able Seaman Oliver Branford, who was on his duty watch on the ship's bridge, spotted an object in the water passing down one side of the ship at a distance of approximately 200 yards (180m). On closer inspection he saw it was a small deer clearly in distress.
AS Branford informed the officer of the watch who told the commanding officer Commander Al Wilson, and a sea boat was launched in a bid to save the deer.
Ten minutes after the sea boat was launched the sea boat crew of Surgeon Lieutenant Nick Healey, Chief Bosun's Mate Petty Officer Andrew Rodgers, Leading Seaman Kieran Woodward and Leading Seaman Perry Hayward, coxswain of the boat, gently hoisted the panicking deer into the vessel.
The sea boat then transited to Fort Picklecombe where LS Woodward carried the unharmed deer ashore and released it back into the wild at around sunset.
Petty Officer Rodgers, who by lucky coincidence was a zookeeper at Dartmoor Zoo from 1997 to 2002, used past and present skills to calm and stabilise the deer, with medical oversight being provided by Surgeon Lieutenant Healey.
PO Rodgers said:
After leaving Dartmoor Zoo I did not think I would be looking after animals again. However, I am glad today that I was on board and was part of the team that saved the deer's life.
Surgeon Lieutenant Healey said:
Having recently joined the ship where we have been conducting intense sea training with simulated casualties, the ability to save a real casualty, albeit one with four legs, was hugely rewarding.
Demonstrating the versatility of the personnel on board the ship, the rescue highlighted that the crew of the ship known as the 'Fighting Clan', who are more used to dealing with pirates and other potential enemies on the high seas, were able to switch from a high intensity training package, prior to deploying in the future, to rescuing a deer.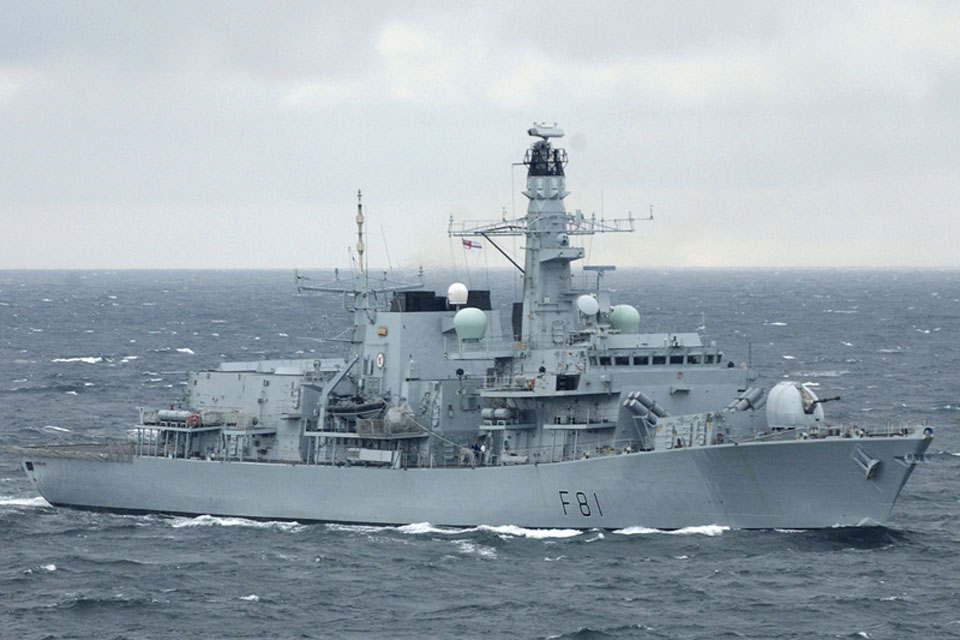 Commander Al Wilson, Commanding Officer of HMS Sutherland, said:
I was really pleased that my team managed to rescue a wild animal that was in extreme distress and return it to its natural habitat. It is obvious that the deer was so fatigued that it would not have survived much longer and would have drowned before reaching the shoreline.
What the rescue demonstrated was the versatility of my sailors who have obviously benefited from the current period of Flag Officer Sea Training. They showed flexibility, quick-thinking and teamwork to adapt to an unfamiliar situation and apply what they have learned to that environment, whether it be as coxswain of the sea boat or applying first aid principles.
It was certainly an unusual end to a Saturday night at sea," he added.
HMS Sutherland is in the third week of training, ensuring that she is fit for any future operations. The ship's company has so far practised multi-threat war-fighting, battle-damage repair, firefighting and damage-control and boarding operations.
Published 19 June 2012