HMS St Albans to sail up Thames
'The Saint' - as the Type 23 frigate is known to her crew - will arrive in London on Saturday morning and will spend a few days hosting a number…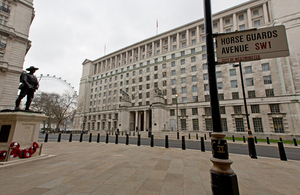 'The Saint' - as the Type 23 frigate is known to her crew - will arrive in London on Saturday morning and will spend a few days hosting a number of capability tours and briefings, as well as supporting community projects in her affiliated town of St Albans. It is her first transit up the River Thames since November 2010.
For one of her crew, it is quite literally a homecoming - as Lieutenant Paul Lane lives in central London.
The warfare officer joined the Royal Navy back in 1985 and has served on various ships while travelling round the world, and he is thrilled St Albans is tying up alongside HMS Belfast during the four-day stay.
A former Clapham College student, Lieutenant Lane said:
I've done a lot in my naval career, from going to the Far East on HMS Exeter, my first sea draft, and getting to climb the Great Wall in China, through time spent with the 1st Assault Group Royal Marines, to working on the Antarctic patrol vessel HMS Protector.

I was promoted to officer in 2010 and am now enjoying my draft to HMS St Albans, doing a job I love. No two days are the same; whether it is anti-piracy, shadowing submarines or delivering aid to victims of a natural disaster - they are all just normal days at the office for us.
The Saint returned from a six-month deployment to the Gulf in December, where she took part in a number of multinational exercises with other navies from the Gulf States to further strengthen national ties within the region and protect British interests in an invaluable region for British commerce.
The ship's Commanding Officer, Commander Tom Sharpe, said:
I am delighted to be able to bring HMS St Albans back into London and engage with so many different groups, including many from St Albans itself. The links with 'our town' are very important to the ship's company and this will be a great opportunity to develop them further whilst showing our support to the wider community.
Tours will take place on Sunday 18 March for a variety of affiliated guests and invited organisations, including St Albans Sea Cadets, and on Monday 19 March a ship's company football team will take on St Albans City football club at Clarence Park in the town.
Admission proceeds will be split equally between the charity Help for Heroes and Grove House Hospice in St Albans.
HMS St Albans was the last of the seven Duke Class Type 23 frigates to be commissioned into the Royal Navy back in 2001. She conducted her duties on her last deployment with a detachment of Royal Marines and a Merlin helicopter from 829 Naval Air Squadron.
She slips on Thursday, 22 March, at around midday to return to sea and her next operational deployment.
We need your help! We are trying out designs for a new single website for all of government and we'd love your feedback. Please visit the 'Government beta site' by clicking on the link under Related Links.