HMS St Albans strengthens ties with Germany
Royal Navy frigate HMS St Albans has spent the past week in Germany where members of the ship's company paid their respects to the fallen at the Commonwealth War Graves Commission cemetery.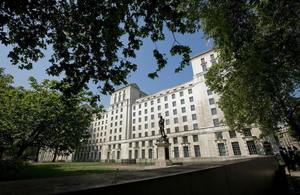 Members of the ship's company, including Commanding Officer Commander Tom Sharpe, two platoons and the ship's guard, attended a remembrance service and wreath-laying at the Kiel Nordfriedhof Commonwealth War Graves Commission cemetery.
There they paid their respects to the 983 British servicemen - mainly from the RAF - who were killed during bombing raids on the port of Kiel in the Second World War. In addition to the fallen airmen, there are numerous Royal Navy servicemen laid to rest there, including 127 men lost when destroyer HMS Esk sank after hitting a mine off the Dutch coast on 1 September 1940.
The service was conducted in the presence of the Polish Vice Consul General (Hamburg) Marek Sorgowicki, German flotilla Admiral Thomas Jugel, UK Defence Attache Brigadier Matthew O'Hanlon, and the Royal British Legion's Tom Smith.
The ship's companies of HMS Ranger, HMS Example, HMS Trumpeter and HMS Explorer also attended and the service was supported by the Band and Bugles of the Rifles.
Brigadier O'Hanlon said:
We are here to remember the servicemen and women of Britain, Poland and the Commonwealth who have lost their lives in the service of their countries. This cemetery is a sobering reminder of the true cost of war and a memorial to the bravery of those who have died.
HMS St Albans later hosted an official reception and capability demonstration for 200 guests which included a large number of dignitaries and VIPs representing German military authorities and the international community.
The ship's company also took part in the country's Kieler Woche (Kiel Week) - the largest summer festival in northern Europe. The huge maritime event was attended by 50 countries, 2,000 yachts and pleasure craft, and more than 5,000 yachtsmen and women.
The capability demonstration involved the ship's Merlin helicopter, firefighting, and man overboard and rescue procedures.
Commander Sharpe said:
I am delighted to be able to bring HMS St Albans to Kieler Woche and engage with the international maritime community. Our visit to the city of Kiel is very important and has proven to be a great opportunity to strengthen our relationships with Germany and the German naval community.
The official reception ended on a high with a 'Beat the Retreat' performed by the Band and Bugles of the Rifles and a ceremonial sunset from the ship's guard.
Published 22 June 2012