HMS St Albans deploys to Indian Ocean and the Gulf
The 4,900-tonne Type 23 frigate will be taking over duties from HMS Iron Duke and will be patrolling busy shipping lanes and providing security…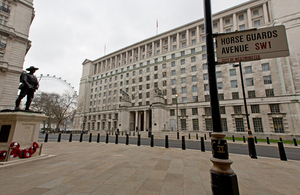 The 4,900-tonne Type 23 frigate will be taking over duties from HMS Iron Duke and will be patrolling busy shipping lanes and providing security for the region alongside other coalition forces.
Her work will include counter-terrorism and anti-piracy operations, exercises and operations with regional naval forces, and wider regional engagement to support and promote the UK's interests in the area.
Since her return from the Middle East in August last year HMS St Albans has undertaken a number of tasks, including a period of training off the coasts of Plymouth and Scotland to prepare her for this deployment.
Commanding Officer of HMS St Albans, Commander Tom Sharpe, said:
HMS St Albans has spent the last five months preparing for this deployment and is now ready to deliver.

Influence will be our key output - whether that is patrolling the high seas to reassure or escort, actively looking for acts of smuggling or piracy, training or exercising with other navies, or engaging in diplomatic efforts from alongside.

Given the political climate in our anticipated operating area, or indeed the eastern Mediterranean before we even get there, we must be prepared to cover the full gamut of naval tasking from routine to high intensity operations and be able to switch between them with traditional flexibility. HMS St Albans sails today ready to do just that.
The crew varies from young sailors who are on their first deployment outside of UK waters to the more experienced sea dogs who are in their 22nd year of service and know the region well.