HMS Somerset welcomed home from the Gulf
Hundreds of well-wishers welcomed the ship home at HM Naval Base Devonport. Entertainment on the jetty-side included a Royal Marines Band, a…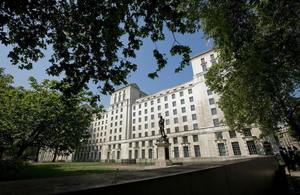 Hundreds of well-wishers welcomed the ship home at HM Naval Base Devonport. Entertainment on the jetty-side included a Royal Marines Band, a band and guard of Sea Cadets from Weston-super-Mare, and, as a special treat for the young families, Father Christmas set up his stall beneath a Christmas tree to hand out early presents to children.
HMS Somerset's primary role on deployment was to protect the Iraqi oil platforms which are vital to the Iraqi economy and the reconstruction effort of the coalition campaign.
HMS Somerset's maritime security operations continued throughout the Gulf and she contributed to counter-piracy operations off the Horn of Africa.
HMS Somerset's Commanding Officer, Commander Andrew Burns, said:
My ship's company of 200 has achieved considerable effect throughout the Middle and Near East in direct support to the UK's strategic interests in the region and as part of coalition maritime forces.
Our presence has supported the Iraqi Navy to defend the Al Basrah oil terminal, allowed legitimate seafarers … to go about their business unhindered.

We have engaged with key allies of the UK throughout the Gulf. This activity confirms the UK's and the Royal Navy's commitment to the security of this vital region.

My ship's company are now looking forward to a well-earned leave period before we return in the New Year and prepare to regenerate to deploy again in 2011.
The Type 23 frigate sailed from Plymouth in May to the Gulf of Suez where it joined Combined Task Force 150, a coalition maritime task force to counter terrorism, smuggling and illegal arms trafficking in the Middle East, across an area of over 2.4 million nautical square miles.
The Royal Navy continues to help protect the shipping lanes where 33,000 shipping movements take place and which carry half of the world's oil and gas each year. For 122 days HMS Somerset successfully improved the stability of the Gulf region.
The ship then joined Combined Task Force 151, a coalition maritime force dealing with counter-piracy operations. The task force has resulted in a reduction of piracy attacks by 15 per cent within the Gulf of Aden in two years.
In the Gulf, HMS Somerset defended the Al Basrah oil terminal and helped in the transition of security duties to the Iraqi Navy, which is increasingly taking responsibility for their territorial waters and the oil platforms.
The ship deployed her Royal Marines and ship's crew as potential boarding teams 250 times in their smaller boats to check on shipping and engage with the masters and crew of dhows and merchant vessels. The response of the maritime community to the presence of the Royal Navy was highly positive.
HMS Somerset also carried out diplomatic engagements with Bahrain, Qatar, Kuwait, the Kingdom of Saudi Arabia and the United Arab Emirates, developing and strengthening the UK's relationships.
Published 2 December 2010