HMS Somerset in Tanzania for 50th anniversary of independence
During the visit, the Type 23 Frigate hosted a number of Tanzanian dignitaries, and the ship's company were welcomed as guests of this most …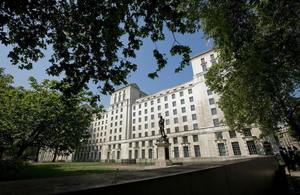 During the visit, the Type 23 Frigate hosted a number of Tanzanian dignitaries, and the ship's company were welcomed as guests of this most hospitable nation, which has strong historical ties to the UK.
The Devonport based frigate has been conducting maritime security operations in the Indian Ocean and this visit provided an opportunity to embark supplies and victuals prior to another period at sea.
HMS Somerset's Commanding Officer, Commander Paul Bristowe said:
It is a great honour to have participated in the celebrations; the kindness of our Tanzanian hosts has been exceptional and builds on the already excellent relations the UK enjoys with the Republic of Tanzania.
Commander Bristowe and his Executive Officer Lieutenant Commander Ben Aldous attended the day of celebrations at the National Stadium. Ben Aldous said:
The ceremony was impressive; Tanzania is proud of its independence and the event marked the occasion well. Throughout the day we were reminded of the importance of tradition and the achievements of Tanzania over the last 50 years.
The ship hosted an official reception at which British Minister for International Relations Stephen O'Brien stood alongside the Tanzanian Minister of Defence and National Service, the Honourable Doctor Mwinyi, and Vice Chief of the Tanzania People's Defence Force (TPDF), General Mwamunuange. Mr O'Brien's speech, made partly in Swahili, warmly acknowledged Tanzania's successes since independence.
As part of Combined Maritime Force's capacity-building mission in combating criminal activity at sea, HMS Somerset's Service Police Officer, Regulating Petty Officer Emma Crawley, gave an evidence-handling lecture to members of the TPDF.
On the final evening, Commander Bristowe attended a reception on Navy Beach, hosted by Major General SS Omar, the Chief of Tanzanian Navy Command, further bonding the two navies. This cultural event was well received and brought to a close a thoroughly successful and enjoyable visit.
On departure from Dar es Salaam, HMS Somerset embarked two extra guest officers for the next patrol: Lieutenant Sikuku of the Kenyan Navy, and Lieutenant Ziguye from the Tanzanian Navy. They will train with the Royal Navy, providing an opportunity for all involved to gain a better appreciation of how other navies operate.
Lieutenant Sikuku said:
This is a great opportunity for me to experience life working with the Royal Navy on board a powerful warship.
As a busy commercial port, Dar es Salaam is reliant on secure maritime trade routes; Coalition naval ships are operating in the Indian Ocean in order to ensure the ocean remains a safe environment for all legitimate mariners.
During an operational deployment, port visits are essential to conduct maintenance and to re-supply with provisions. Tanzania is ideally located to allow the ship to replenish whilst remaining close to her allocated patrol areas.
HMS Somerset is working under Combined Maritime Forces (CMF) as part of a task force which patrols the Red Sea, Gulf of Aden, Indian Ocean and the Gulf of Oman. It is a multi-national endeavour and exists to create a lawful and stable maritime environment free from terrorism, smuggling and other illegal activities. The principal mission is to deter, disrupt and defeat such actions.
Throughout Somerset's deployment her ship's company will continue to promote stable and cooperative relationships with nations with whom she has contact. However, she will remain at readiness to respond to any tasking.
Published 19 December 2011