HMS Somerset heads for Iraq
The Plymouth-based Type 23 frigate left Devonport earlier this year. In the first week of her current tasking, the frigate visited 76 vessels…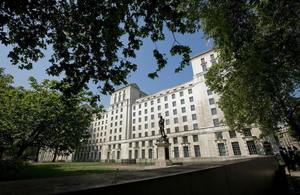 The Plymouth-based Type 23 frigate left Devonport earlier this year.
In the first week of her current tasking, the frigate visited 76 vessels, with its boarding team and embarked Royal Marines, helping to reassure the maritime shipping community.
The work continued during HMS Somerset's passage through the Gulf of Suez, where the ship, as part of Combined Task Force (CTF) 152, helped provide a secure environment for merchant vessels navigating a shipping lane through which 50 per cent of the world's annual oil and gas supplies pass.
Reaching the Gulf of Aden, HMS Somerset switched to CTF 151, with a new focus on counter-piracy operations.
It is a role which HMS Somerset has experience of from an exercise last year. Since its launch, CTF 151 has cut piracy attacks by 15 per cent in its area of operations.
Commander Andrew Burns, HMS Somerset's Commanding Officer, said:
HMS Somerset is already having significant effect in the Gulf through her presence and the engagement my boarding team have had with seafarers. The reassurance we have been able to provide to the local community indicates the commitment of coalition forces to security and stability.

My team are focused on the task in hand and ready for any eventuality in this unpredictable theatre of operations.
HMS Somerset is moving from general security patrols in the Gulf to the specific role of protecting the Al Basrah Oil Terminal (ABOT) to the north.
Comprising British and US naval personnel, working alongside elements of the Iraqi Navy and the Iraqi Marines, CTF Iraqi Maritime (CTF IM) is responsible for maintaining security in and around both the ABOT and Khawr Al Amaya Oil (KAAOT) Terminals.
The two oil terminals, ABOT and KAAOT, are tremendously important to Iraq. 95 per cent of Iraqi oil is distributed from these terminals, and the oil industry accounts for 75 per cent of Iraq's Gross Domestic Product. They are therefore vital to the economy of Iraq and her ongoing reconstruction.
Conducting Maritime Security Operations and supporting the development of operational capability of the Iraqi Navy and Marines are important additional elements of the role undertaken by the Task Force.
Published 19 July 2010