HMS Somerset deploys to the Gulf
The Type 23 frigate was seen off by friends and family of the crew from her homeport of Devonport, Plymouth, on Wednesday 26 May 2010, as she…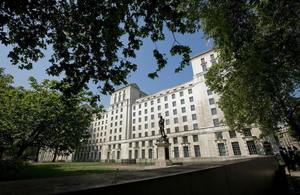 The Type 23 frigate was seen off by friends and family of the crew from her homeport of Devonport, Plymouth, on Wednesday 26 May 2010, as she deployed to provide security for the Iraqi offshore oil infrastructure, vital to the Iraqi economy and the reconstruction effort of the coalition campaign.
HMS Somerset's Commanding Officer, Commander Andrew Burns, said:
My ship's company are well prepared and looking forward to the challenges that lie ahead.

We depart from the UK confident that we can deliver every aspect of our mission to a high standard, contribute to security in the Middle East and maintain the strong reputation of the UK and Royal Navy in the region.
Having completed a demanding period of operational sea training under the Devonport-based Flag Officer Sea Training organisation, the ship and her crew are at the highest level of readiness to deliver their task and a range of activity in support of UK objectives.
The ship's equipment is also in first-rate condition after an extensive maintenance period supported by the Devonport dockyard team.
The ship's preparations culminated in successful missile firings of her Seawolf point defence missile system.
During her deployment HMS Somerset will support Operation ACTIVE ENDEAVOUR in the Mediterranean, providing reassurance and reinforcing freedom of navigation, and will conduct counter-piracy operations off the Horn of Africa.
She will also participate in a variety of multinational exercises and support UK strategic interests in the Middle East.
Published 28 May 2010