HMS Somerset conducts exercises with Saudi Navy
Having just taken over duties from HMS Monmouth in the Middle East, HMS Somerset has wasted no time in reinforcing multinational relations by conducting maritime security exercises with the Saudi Navy in the Red Sea.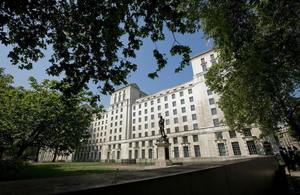 As HMS Somerset commences her duties in theatre, the ship's company are firmly focused on conducting maritime security operations under international maritime conventions, ensuring security and safety in international waters.
An end to the regional monsoon season is expected to herald an increase in illegal maritime activity.
HMS Somerset's Commanding Officer, Commander Paul Bristowe, said:
The Red Sea is one of the busiest sea lanes in the world, bearing shipping vital to the global economic recovery. Illegal maritime activity in these waters is a threat to the free passage of trade.

Safe transit is mutually beneficial to both the UK and Saudi Arabia; as such, it is an ideal shared endeavour with which to cement relations.
A key facet of Somerset's maritime security tasking is the execution of boarding operations. Her ship's company have been preparing for this deployment since returning from the Gulf in December last year, and have been rehearsing their drills throughout her transit into theatre.
After conducting ship-handling manoeuvres with HMS Taif of the Saudi Navy, the combined crews of both ships made maximum use of their rendezvous by conducting maritime security drills.
A Royal Marines boarding team from HMS Somerset also conducted a boarding rehearsal on HMS Taif. Whilst embarked they exchanged tactics with their fellow mariners.
Throughout Somerset's deployment her ship's company will work with and visit a number of nations, helping maintain relations and the strong reputation of the Royal Navy. She is due to return to the UK in February 2012.
Published 22 September 2011