HMS Somerset awarded trophy for counter-piracy work
The Royal Navy frigate HMS Somerset has been recognised for her excellent work policing international waters.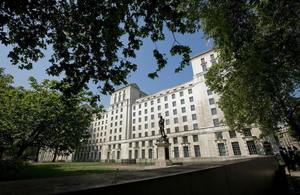 Rear Admiral Chris Snow, Rear Admiral Surface Ships, presented the Fleet Frigate Effectiveness Trophy to the ship's company at a ceremony onboard HMS Somerset at HM Naval Base Devonport.
The accolade recognises the ship's company's sterling work throughout 2010 during her deployment in the Gulf.
The trophy was first presented in 1919 by the Prince of Wales to the battleship HMS Renown. The award recognises HMS Somerset's East of Suez operations on the front line of counter-piracy, counter-terrorism and maritime security operations.
During last year's Gulf deployment HMS Somerset conducted over 250 operational boardings checking shipping.
Rear Admiral Snow praised HMS Somerset for her 'outstanding' work last year and thanked the ship's company on behalf of Commander-in-Chief Fleet and the whole of the surface ship flotilla.
He said the ship's company as a whole and as individuals should be very proud of what they achieved throughout 2010.
HMS Somerset's Commanding Officer, Commander Paul Bristowe, accepted the trophy and a pennant that will be flown on the ship during this year.
Rear Admiral Snow also presented Chief Petty Officer (Catering Services) Simon Simpson with a valedictory certificate on the occasion of his retirement from service in recognition of over 24 years of dedicated and professional service to the Royal Navy.
Published 17 March 2011