The Royal Navy survey ship HMS Scott returned to Devonport this week after six months on deployment in the southern hemisphere.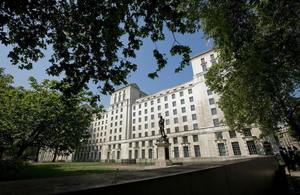 The deep-water survey ship deployed on 26 October 2009.
As well as carrying out her primary role of ocean surveying, the ship completed operations in Antarctica and the Atlantic. Her final port of call was Simon's Town in South Africa before heading home.
Her Commanding Officer, Commander Gary Hesling, said:
It is good to be back home with our families. It has been a demanding yet hugely successful deployment and indeed shows that we have a truly flexible and global Royal Navy.
In total HMS Scott steamed 31,275 miles (50,332km), issued 425 sea sickness tablets, served some 6,487 English breakfasts, and encountered sea temperatures between one and 31 degrees Celsius.
She will be back at sea to carry out survey operations in June after visiting Cardiff to commemorate Antarctic explorer Captain Scott's ill-fated journey to the South Pole.
HMS Scott can operate in a variety of environments, almost anywhere in the world, a fact that she proved by surveying between Antarctica and the equator.
HMS Scott is the Royal Navy's deep-water ocean survey vessel. She is the sixth largest vessel in the Royal Navy fleet, at 13,500 tons. Her size is a consequence of her unique sonar fit, capable of surveying the deepest oceans in continuous lines of up to 400 miles (644km) in length. She was commissioned in 1997.
The ship operates crew rotation, with 52 onboard at any one time during a standard 35-day operational cycle. The ship therefore maximises its operational availability, being at sea for 307 days a year.
Published 14 May 2010