HMS Richmond missile refit begins
An extensive £20m refit has begun at Devonport Dockyard on the Royal Navy Type 23 frigate HMS Richmond.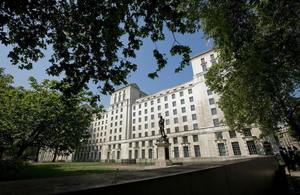 The refit includes upgrading the ship's Sea Wolf missile system, part of a £300m upgrade programme being rolled out across the fleet of Type 23 frigates.
The new £4m Sea Wolf short range ship defence missile system has been designed to combat the increasing threat of faster, lower-flying and more manoeuvrable missiles and can track a target the size of a cricket ball at twice the speed of sound from over 20 miles away (32km) and launch two missiles to destroy it.
The MOD signed the contract for the refit in September 2011 with Babcock and the work will be carried out at their Devonport facility. The work is expected to be completed next spring, with the ship due to return to the fleet in the summer following sea trials.
In addition to routine maintenance work, the refit contract includes a number of upgrades to better equip the vessel for her worldwide roles. These include installation of a new £800,000 command system that will be more cost-effective to maintain and is compatible with other new ships entering service.
A new 'brain' for the weapons systems and upgraded communications systems are also being installed across the Type 23 Frigate Force to enhance operational capability and interoperability for the future.
An upgrade to the 30mm automatic guns is also being carried out to extend their effective range and accuracy.
Minister for Defence Equipment, Support and Technology, Peter Luff, said:
This refit work will see HMS Richmond follow previous Type 23 frigates in benefiting from a range of essential upgrades that will maintain her at peak effectiveness. These frigates continue to form the backbone of the Royal Navy's ability to deploy worldwide in defence of the UK's interests.
Rear Admiral P D Hudson, Chief of Staff Operations Capability, Naval Command Headquarters, said:
This important work will not only deliver an essential refresh of the ship's war-fighting capabilities in a wide range of operational environments, but will also improve the living conditions for the ship's company.
We look forward to HMS Richmond returning to the fleet ready for the challenges of warfare in the 21st century.
Published 17 October 2011