HMS Richmond escorts food aid to Somalia
The Royal Navy's HMS Richmond, which is taking part in anti-piracy patrols off the coast of the Horn of Africa, has recently escorted a cargo ship filled with international food aid bound for Somalia.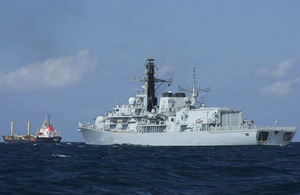 HMS Richmond is part of the European Union Naval Force (EUNAVFOR) which is primarily responsible for protecting vessels involved with the UN World Food Programme, providing humanitarian aid and the African Union Mission in Somalia (AMISOM).
The Type 23 Portsmouth-based frigate has been patrolling the north and east coasts of the African country. She was tasked with protecting the aid ship MV Fadhil Rabi as she made her way into the port of Mogadishu.
The food aid, provided by the UN World Food Programme, provides much-needed assistance to Somalia where half the population depend upon this service for their survival.
HMS Richmond's Commanding Officer, Captain Mike Walliker, said:
It has been professionally very rewarding for my ship's company to be in a position to help to ensure the safe and timely delivery of much-needed food aid to an area of the world that has been so blighted by food shortages and starvation.
This and our role in deterring and disrupting piracy in the region - something we have all trained long and hard for - means that HMS Richmond has been involved in a very demanding but fascinating deployment so far.
HMS Richmond is now planning a short visit to the Seychelles as part of a wider UK regional engagement programme. While alongside in Port Victoria the frigate is aiming to provide extra training to the Seychelles Coast Guard to help them in their efforts to combat maritime crime on their shores.
The ship's company have also been put through their paces with continuous exercises in the skills required for counter-piracy operations such as boarding training - where special teams travel out to suspect vessels - and firing practice. Once she leaves the Seychelles, HMS Richmond will be back out at sea protecting the maritime community.
Published 3 March 2011