HMS Richmond deploys on counter-piracy mission
Royal Navy Type 23 frigate HMS Richmond has today left Portsmouth for a seven-month maritime security and counter-piracy mission around the Horn of Africa and the Far East.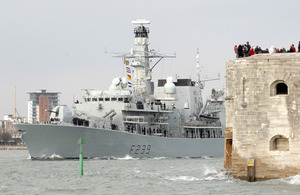 Over the last few months the ship's company has been put through a series of demanding sea training packages to ensure they are ready for their mission where they will be working with a number of coalition navies.
HMS Richmond will be part of the Royal Navy's contribution to the international efforts to deter pirates around the Horn of Africa and counter this threat to the international shipping lanes.
She will also help to secure the delivery of aid to Somalia under the World Food Programme and deploy for a time to the Far East in support of UK military commitments such as the Five Power Defence Arrangements. This will include diplomatic visits to ports in Indonesia, Brunei and Singapore.
Weapon Engineer Officer Lieutenant Commander Daniel D'Silva said:
It will certainly be an interesting deployment from a defence diplomacy point of view. There is a large coalition of other navies engaged in this work who we are looking forward to working with.
Based in Portsmouth when in the UK, the ship has completed previous deployments to the Far East, America, the South Atlantic, the Gulf and the Caribbean, including counter-drug and disaster relief operations for the islands of Turks and Caicos, Grenada and Grand Cayman.
Published 5 January 2011