News story
HMS Protector returns to Portsmouth
HMS Protector, the Royal Navy's ice patrol ship, returned home to Portsmouth today, 10 May, following a 9-month deployment to Antarctica.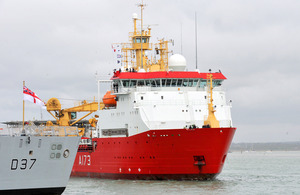 HMS Protector left Portsmouth on 17 September 2012 and sailed south via St Helena, Simon's Town in South Africa and Tristan da Cunha, before arriving in Antarctica in early December.
Operating in the British Antarctic Territory and around South Georgia and the South Sandwich Islands throughout the austral summer, the ship conducted 3 intensive work periods in the ice, and a fourth work period in the waters surrounding South Georgia.
Protector's programme of work included providing direct support to a UK-led, multinational Antarctic Treaty inspection team, landing and recovering British Antarctic Survey scientists at ecologically-important sites, assisting with ongoing environmental and conservation work, and surveying the poorly-charted waters around the Antarctic Peninsula.
Her multibeam echo sounder and survey motor boat helped provide hi-tech hydrographic charting and imagery used to improve the navigational awareness and safety of other ships and mariners operating in the area.
The Commanding Officer of HMS Protector, Captain Rhett Hatcher, said:
Completing such a busy and diverse programme in the ship's second deployment to Antarctica in as many years represents a significant achievement for HMS Protector's ship's company.

A very full summer lies ahead of us, which will include a visit to Cambridge, our affiliated city, and operational sea training. Protector will deploy to the Antarctic again in autumn of this year.
Published 10 May 2013