HMS Protector arrives in Antarctica
Her arrival, via Montevideo in Uruguay, coincided with the centenary of the Royal Navy's Captain Scott reaching the South Pole. HMS Protector…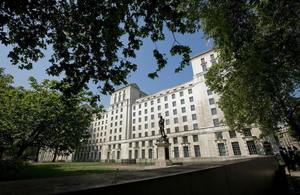 Her arrival, via Montevideo in Uruguay, coincided with the centenary of the Royal Navy's Captain Scott reaching the South Pole.
HMS Protector's first task within the frozen wilderness was to disembark stores and personnel for the British Antarctic Survey teams stationed on the Antarctic Peninsula.
While in the British Antarctic Territory, a key part of HMS Protector's duties is to make contact with Antarctic base stations. Since their arrival the crew have visited the Uruguayan base Artigas and the Argentine base Jubany.
For more pictures relating to HMS Protector's arrival in Antarctica, see the Gallery at Related Links.
At Artigas the crew heard that the Uruguayan President Jose Mujica was staying overnight. In the spirit of international friendship, the Commanding Officer of HMS Protector, Captain Peter Sparkes, donated a crate of the ship's own brand of beer, 'Ice-Breaker', for the President to enjoy that evening.
From Artigas, the crew sailed HMS Protector's work boat Terra Nova to the Argentine base on King George Island. Humpback whales and penguins greeted the crew as they rounded the headland into Potter Cove, where Jubany station is located.
Here, HMS Protector's state-of-the-art survey motor boat James Caird IV operated close to shore - dwarfed by a spectacular glacier.
The purpose of the visit to Jubany was to hold discussions on local co-operation, and the teams met up again onboard HMS Protector the following day.
While hosting their visitors the Protector and Jubany diving teams enjoyed an extremely successful dive in Potter Cove.
Although the weather was challenging and the underwater visibility poor, it was a good opportunity to exercise the Royal Navy divers in the cold waters of Antarctica for the first time, and to strengthen relations between HMS Protector and the divers based at Jubany Station.
The next task was to install a tidal gauge at the South Korean King Sejong Station to update the tidal knowledge in a busy shipping area.
Currently the tides are largely calculated on two days' worth of historic data collected over 40 years ago, so this was an invaluable part of HMS Protector's survey work to improve hydrographic knowledge of the area.
The James Caird IV undertook her first survey of Potter Cove using the latest multibeam echo sounder. The data collected will be sent to the UK Hydrographic Office in Taunton to update the charts of an area last surveyed with a lead line in the 19th century.
As a result of how things have changed thanks to global warming, the survey team managed to take the James Caird IV 'inland' as the glacier has retreated over 2km in the last 150 years.
HMS Protector will continue to undertake taskings within the British Antarctic Territory over the next few months - visiting bases, supporting scientific work and undertaking hydrographic survey work.
Published 26 January 2012