HMS Portland returns home from Atlantic and Pacific patrols
Friends and family welcome home HMS Portland as she returns from a successful seven-month deployment to the South Atlantic, eastern Pacific and Caribbean Sea.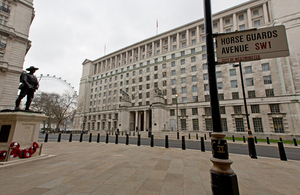 The Devonport-based Type 23 frigate was deployed to the Falkland Islands for four months as the Atlantic Patrol Task (South) ship and sailed over 32,000 miles (51,500km), including circumnavigating South America, transiting the Magellan Straits, Patagonian and Panama Canals and sailing the length and breadth of the Atlantic with two crossings of the Equator.
HMS Portland's Commanding Officer, Commander Mike Knott, said:
In a busy but extremely rewarding seven months HMS Portland has achieved a great deal, not only enhancing peace and stability within the South Atlantic and West African regions, but also contributing to the fight against cocaine-trafficking and narco-terrorism.

I am extremely proud of my ship's company which has made a positive impact everywhere we have visited and represented the United Kingdom and Royal Navy in the finest traditions of the Service.
After travelling over 32,000 miles and visiting 11 countries you cannot put into words how wonderful it is for the crew to meet up again with their families who have not seen them for such a long period of time. I am always so proud of how the ship's company deals with the strain of being away from their loved ones.
HMS Portland sailed from Devonport in April and en route to the Falkland Islands conducted a four-day defence diplomacy visit to Rio de Janeiro in Brazil where she hosted high-profile events such as the UK Trade and Investment defence industry day, when lucrative contracts for British businesses were signed, and a peace support operations conference for the British Ambassador.
The ship's role on her deployment was to provide a maritime presence to protect the UK's interests in the region, to reassure UK overseas territories, commonwealth countries and other friendly nations, and act as a deterrent to potential aggressors.
The ship took part in joint exercises with the Army and RAF and conducted visits to the settlements around the Falkland Islands, including South Georgia and the South Sandwich Islands.
Six members of the Welsh Guards were embarked as the duty Falkland Islands infantry company which conducted foot patrols ashore.
The dramatic scenery and remote landscape will be long remembered by the ship's company as the ship encountered icebergs, glaciers, stunning mountains and fascinating local wildlife, including fur seals, elephant seals and many penguins.
On leaving the Falkland Islands, HMS Portland was honoured by a fantastic ceremonial send-off from the people and aircraft of the Mount Pleasant Complex, the Falkland Islands' military base.
The ship then navigated the Magellan Straits and Patagonian Canals on the south west coast of Chile on her way to Valparaiso for Chile's 200th anniversary of independence celebrations. The event was marked by a multinational naval exercise and an international fleet review attended by President Sebastian Pinera and the Royal Navy's First Sea Lord, Admiral Sir Mark Stanhope.
On her voyage to Chile, HMS Portland carried a special cargo of three church bells originally from a church in Santiago destroyed by fire 150 years ago but which were saved and shipped to a church in Oystermouth, Wales, where they had been on display until earlier this year.
HMS Portland and RFA Black Rover shared the transport of the bells from the UK to return them to Chile and their return on this patrol was part of the country's 200th anniversary celebrations.
HMS Portland also conducted a five-day visit to Lima in Peru, which also included a defence industry day on behalf of UK Trade and Industry, and a visit by James Brokenshire MP, Parliamentary Under Secretary for Crime Reduction at the Home Office, further raising the Royal Navy's profile in South America and helping to strengthen co-operation with Peru in the fight against cocaine-trafficking and associated terrorism.
Published 17 November 2010