HMS Portland gets an icy welcome in South Georgia
HMS Portland encountered the massive block of ice on a recent trip to the remote UK territory hundreds of miles to the east of South America…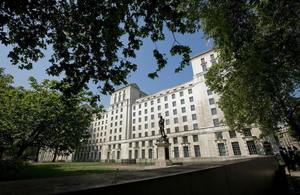 HMS Portland encountered the massive block of ice on a recent trip to the remote UK territory hundreds of miles to the east of South America.
The encounter came as the Type 23 frigate went on an exploratory tour from the Falkland Islands, where Portland is based on South Atlantic patrol.
She sailed from East Cove Military Port, her traditional port in the Falklands, to carry out her remit to protect, reassure and defend the South Atlantic overseas territories.
During the voyage south several forces visitors were kept busy with tours of the ship and hands-on experience of different departments. The southern hemisphere winter was mild but on entering the Antarctic the temperature dropped and a giant iceberg was spotted as the ship approached South Georgia.
Having sailed around the north of the island, Portland entered Drygalski Fjord as the sun rose and 35 knots (65km/h) of Antarctic wind whistled past the ship. Huge mountains rose straight out of the blue fjord and at one point an iceberg floated past with penguins sat on top.
Having sailed as far up the fjord as possible, Portland turned around and headed for Cumberland Bay and the capital of the island, Grytviken.
The ship entered Cumberland Bay and went to take a closer look at the Nordenskjold Glacier at the top of the bay, which has not been charted for 20 years.
Keeping a careful eye on the depth of water and the small icebergs around her, Portland was able to get within a few hundred yards of the end of the glacier.
The visit to South Georgia's snowy mountains and frozen lakes included time at the grave of explorer Ernest Shackleton, where fur seals and elephant seals count among the wildlife.
Commander Mike Knott, Commanding Officer of HMS Portland, said:
Our visit to South Georgia was special in many ways. After a few months at sea, 'runs ashore' can all start to blur into one but our time in South Georgia will be etched in our memories forever.
The majesty and beauty of the island was simply awe-inspiring. South Georgia is just one of a number of British South Atlantic overseas territories, and it has been HMS Portland's job to provide reassurance and protection to all of these islands during our deployment.

The fact that we are able to go to these far-flung places, operate in the ice and snow, and still perform our professional role is a good demonstration of the Royal Navy's global reach and sustainability.
The ship is coming to the latter stages of a seven-month deployment to the region. Its main concern has been delivering security and assistance to the people of the various South Atlantic islands.
Living 250 miles (400km) away from mainland South America at their nearest point, the islanders are dependent on the surrounding seas for their livelihood.
HMS Portland's presence in policing and protecting those waters gives the islanders continuing confidence.
Published 23 August 2010