HMS Ocean welcomed home after world wide deployment
The jetty was packed with banner-waving families entertained by Her Majesty's Royal Marine Band of Plymouth as the ship arrived. First off…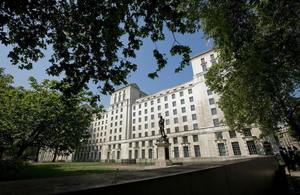 The jetty was packed with banner-waving families entertained by Her Majesty's Royal Marine Band of Plymouth as the ship arrived.
First off the ship was Captain Keith Blount, the ship's commanding officer, who was greeted by his family before praising the families and his crew:
It is fabulous to be back. Wonderful to be home back in Plymouth after a great five-months away," he said. "Now is the time for relaxation for my ship's company as they go off on well-deserved leave to spend time with their families and loved ones. The crew have been fantastic and have been very professional.

The deployment has been full of variety and the sailors have responded very well to all of the duties placed on them. HMS Ocean has shown what the Navy is trained for in a tremendously high profile successful deployment. The ship had to be re-configured for each of the different taskings, including counter-drugs patrol, humanitarian aid, defence diplomacy, joint exercises with countries we have not visited before.

In fact HMS Ocean has packed in the full range of tasks a Royal Navy ship would perhaps be asked to do in a year - in only five months. I could not ask any more of my people.

The key to their and our success is the support of the families back home and they deserve all our thanks.
Chief Petty Officer Martin Dowse, of Camborne Cornwall, runs the aircraft hangar on board. He was greeted by his overjoyed family on the jetty - wife Sarah, and children Imogen, five, and Noah, eight months. He hugged his son and said:
It is great to be back home again and see my family. The last time I saw Noah when he was less than half his age now and I last saw photos of him four months ago. He has grown a lot since then.

The deployment was very busy and full of variety. The defence review announcement happened while we were away and made us all a little worried, but we will just have to wait and see what happens.
His wife said:
The future is uncertain about the ship, but now we will be spending precious time together as a family. It was hectic Martin being away with such a young family. Imogen has been counting down until daddy's arrival from 67 'sleeps' ago. She wants to go to the beach with her daddy and to have a barbecue.
Isha Jameson, a cadet logistics officer on board HMS Ocean, was welcomed by her sister Jila and brother Dan and cheering mother Liz, waving a flag of Tobago from their country of origin. Jila said:
It is great to have Isha back home again. She joined the ship in Brazil and had a good time though it was hard work, but she loves being at sea.
Amanda Christie, of Barnstaple, welcomed her husband Petty Officer Matthew Christie home with their young daughter Lana who is five months old, and son Alex, aged six. Amanda said:
Luckily Matthew had paternity leave at the beginning of the deployment for Lana's birth and then joined the ship for most of the deployment. It is fantastic to have him home. He has found it especially difficult with Lana so young, but she makes it a special homecoming for us all.
The voyage covered 16,000-miles (25,750km) and four continents during which the ship has conducted five amphibious exercises with troops from five different nations, two maritime security patrols, provided training for 300 marines and sailors from nine countries.
On defence diplomacy duties the ship hosted six international seminars for senior officials, ran defence sales events for UK Trade and Investment, and hosted royalty, two presidents and numerous senior ministers and military. Meanwhile, away from the high profile events, Royal Naval sailors conducted four out-reach projects, which improved the lives of hundreds of children in three countries.
Ocean returns for the ship's company to spend some well earned time with their families and loved ones and to conduct a maintenance period alongside in Devonport Naval Base and the ship will remain at short notice for operations anywhere in the world throughout.
Published 1 November 2010