HMS Ocean returns to Sierra Leone
In 2000, HMS Ocean played a pivotal role in Operation PALLISER, mounted to provide salvation for the beleaguered Freetowners when rebel forces…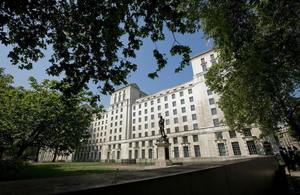 In 2000, HMS Ocean played a pivotal role in Operation PALLISER, mounted to provide salvation for the beleaguered Freetowners when rebel forces threatened the city. The city's population remember Ocean fondly as the 'Ship of Hope'.
At that time Ocean, accompanied by the frigates HMS Argyll and HMS Chatham, and four Royal Fleet Auxiliary ships, provided offshore naval support to a land operation at first conducted by Army units, and then by Royal Marines of 42 Commando. The ships' tasks included evacuation of UK, Commonwealth and EU citizens from Sierra Leone.
Ocean's four-day visit to Freetown last week was very different to the situation ten years ago.
One of her key roles this time was to help train members of the Sierra Leone Armed Forces, 40 of whom were airlifted from the hills by Ocean's Lynx helicopters and recovered to the ship.
On board, President Ernest Koroma visited his troops as they prepared for a beach assault exercise, following which they penetrated deep into the jungle with members of 539 Assault Squadron Royal Marines, who are embarked on Ocean.
One of the officers being trained, Captain Musa Gbow, said:
Having the opportunity to demonstrate our skills alongside HMS Ocean and her Royal Marines, the best military force in the world, in front of our president, is a great honour.
The ship also hosted a series of conferences on maritime security on board, where international heads of mission, Sierra Leone cabinet ministers and other senior officials met.
Ashore, members of the ship's company helped with maintenance work at the Milton Margai School for the Blind with which the British military developed a close relationship during Operation PALLISER.
As the ship prepared to depart, her Commanding Officer, Captain Keith Blount, said:
HMS Ocean shares a close bond with the people of Sierra Leone, and I am extremely heartened by the positive and vibrant atmosphere here, in a country that has experienced so much pain. The warmth of the welcome that the ship's company have received from the people of Freetown is most humbling.
Ocean has now returned to maritime security operations, conducting counter-narcotics patrols in the Gulf of Guinea in close partnership with Cape Verdean and Portuguese legal authorities.
Since the ship left her Devonport base five months ago she has travelled 16,000 miles (26,000km) and visited four continents while conducting a wide range of duties including amphibious exercises, maritime security operations and defence diplomacy. She is due to return home at the end of this month.
Published 18 October 2010