Since the Royal Navy helicopter carrier HMS Ocean left the UK, the ship has spent 176 days at sea and steamed more than 40,000 miles (64,000km…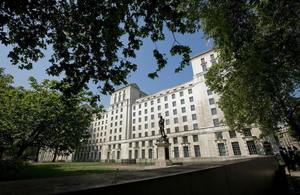 Since the Royal Navy helicopter carrier HMS Ocean left the UK, the ship has spent 176 days at sea and steamed more than 40,000 miles (64,000km), burning approximately 6,000 tonnes of fuel.
The 22,000-tonne amphibious assault ship left UK waters in late April as part of the Cougar deployment - designed to ensure that Britain's new Response Force Task Group could stand up and be ready to respond to changing world events.
Ocean played a major role in a series of planned amphibious exercises in the Mediterranean with embarked Royal Marines from 40 Commando, the Commando Helicopter Force, and 656 Squadron Army Air Corps Apache helicopters.
Ocean's tasking was switched rapidly to support the UN-backed mission to protect Libyan civilians, and at the end of May she joined the NATO-led Operation UNIFIED PROTECTOR.
As Libyan rebels fought Gaddafi forces, HMS Ocean launched Britain's first seaborne Apache raid, destroying military vehicles, installations and communications equipment.
HMS Ocean's Commanding Officer, Captain Andrew Betton, said:
The ability of Ocean to manoeuvre along the coast of Libya kept the tactical surprise on our side and meant that pro-Gaddafi forces were kept guessing as to where and when the Apaches would strike next, with huge effect on their morale.

Our embarked Apache attack helicopters were a perfect complement to the RAF's fixed wing aircraft. I have been hugely impressed by the fortitude and professional attitude of Ocean's ship's company.

Despite the frequent changes in our programme and the uncertainty of when our mission would end, everyone has got stuck in to do what the Royal Navy does best, with good humour, energy and professionalism.
Ocean's sailors, marines and soldiers remained alert until the fall of Gaddafi, and were praised personally by the professional head of the British Armed Forces, the Chief of the Defence Staff, General Sir David Richards.
Speaking during a visit to HMS Ocean last month, General Richards said:
What you did in Libya and the way you have responded over the last few months have been in the best traditions of the Service; not only have you done great work operationally but you have broken new barriers professionally, particularly with the Apache.

The name of HMS Ocean is held in high regard in the UK and you should be proud, and deservedly so, of what you have achieved.
Captain Betton added:
After uncertainty in our programme we are all delighted to be back home for Christmas and are really looking forward to seeing our loved ones again.
Our families and friends have been a huge support during this deployment and it will be wonderful to be home with them for this most special of family occasions, particularly for those of us with small children.
As they made their way back to the UK last week, the crew of HMS Ocean made world news with their rendition of Mariah Carey's 'All I Want For Christmas Is You'.
The crew were filmed miming the lines to the song on board the ship, and the video clip was then posted on YouTube, where it has been viewed over a million times.
Mariah Carey even tweeted HMS Ocean's crew following the worldwide fame they gathered for singing her song. She said:
This is the best thing I've ever seen, you guys just made my day! Happy Happy Christmas!!! x0x0 to the troops.
Watch the video clip at Related Links.
Published 12 December 2011