HMS Ocean rescues sailor in Atlantic
HMS Ocean assisted the Italian-registered 'Grand Guinea' last week when one of the crew members was struck down with an acute case of suspected appendicitis.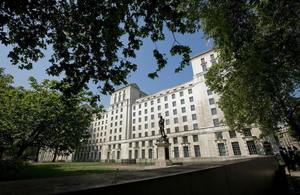 Although nearly 600 miles (970km) away, conducting maritime security operations in the Gulf of Guinea, Captain Keith Blount, HMS Ocean's Commanding Officer, turned the 20,700-tonne helicopter carrier around and proceeded towards the vessel at maximum speed.
By the following morning HMS Ocean was close enough to launch one of her Lynx helicopters and the ship's medical officer was winched onboard the Grand Guinea to assess the patient and provide immediate medical care.
It was immediately clear that the patient needed urgent hospital treatment so the decision was made to transfer him to HMS Ocean, where he was stabilised in the ship's medical centre before being transferred to a hospital in Cape Verde later that day, once the ship was within range.
Lieutenant Pascal Patterson, the Lynx helicopter pilot, said:
This kind of medical rescue is something we train for regularly and with such good weather conditions it was a straightforward procedure to winch him onboard the aircraft. He was obviously in quite a lot of discomfort when we arrived, so I am glad we were able to get the medical officer to him when we did.
HMS Ocean is currently conducting maritime security operations in the Gulf of Guinea in close partnership with Cape Verdean and Portuguese legal authorities.
Due to return to the UK at the end of October 2010, this is the final phase of an extremely successful five-month deployment that has seen the ship travel over 16,000 miles (26,000km), visiting four continents and conducting a wide range of duties including amphibious war-fighting exercises, maritime security operations, defence diplomacy and capacity-building.
Published 21 October 2010