HMS Ocean opens to public ahead of Olympics duties
The helicopter carrier HMS Ocean will berth at Greenwich this evening for her Olympics duties, and will be open to the public on Sunday, 15 July - a unique opportunity to tour the largest ship in the Royal Navy Fleet.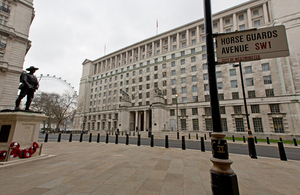 After the training exercises earlier this year, HMS Ocean is returning to London for a key role supporting the police in providing security to the Olympic Games. She will be berthed at Greenwich until after the Paralympics, and will act as a helicopter landing platform and logistics hub in support of maritime and air security operations.
HMS Ocean will also accommodate 400 military personnel who will be part of the venue security force for nearby Greenwich Park.
When Ocean last visited London, in May, to prepare for her Olympics tasking, thousands of people from local communities got the chance to take a short tour of the ship while she was berthed at Greenwich.
And Captain Andrew Betton, HMS Ocean's Commanding Officer, is again pleased to be able to offer another opportunity for the public to venture aboard when the massive warship opens her gangways this weekend.
The ship will be open to visitors on Sunday, 15 July, from 1000hrs to 1500hrs, with free boat transfers from Greenwich Pier (London SE10 9HT). Access to the boat transfer area is via the grounds of the Old Royal Naval College, where there will also be a bag search point.
There will be no left luggage (including buggies) facility offered. Please note that access to the ship requires ascending ladders and is therefore not suitable for individuals with mobility difficulties - please also dress suitably.
Captain Betton said:
I know the ship's company are very much looking forward to returning to London after a warm welcome in May. As we are expecting a large turnout of people on Sunday, you would be best advised to get there early and expect to queue - while we will do our best to get you on board, we can offer no guarantees.
An amphibious assault ship, HMS Ocean is designed to deliver Royal Marines commandos to the centre of the action by helicopter or by landing craft - there are six helicopter operating spots on the flight deck, and the hangar can hold many more aircraft. The ship also has an assault squadron embarked, 9 Assault Squadron Royal Marines, and carries four landing craft capable of landing troops or a Land Rover-sized vehicle ashore.
HMS Ocean played a key role in support of the UN Security Council Resolution off Libya last year, acting as the base for the Army's Apache attack helicopters and the Royal Navy's Sea King surveillance helicopters.
The Apache helicopters flying from HMS Ocean complemented the RAF jets, delivering additional precision strike capability with considerable success. Over the course of the operation, the Apache crews from 656 Squadron Army Air Corps attacked Libyan military vehicles, installations and communications equipment.
Please tell us what you think about government news on the web by filling in the short survey at Related Links.